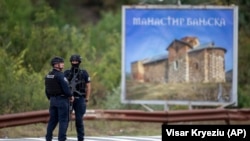 Kosovar police officers secure a road leading to the monastery in the village of Banjska on September 24.
Authorities in Kosovo say the situation around a Serbian Orthodox monastery complex in the mostly Serb-populated north of the country was calm on September 25, which President Vjosa Osmani has declared a day of mourning, after a tense standoff following an assault over the weekend by a "heavily armed" group that led to the death of one police officer and three suspected assailants.
The KosovaPress news agency quoted the deputy director of the Kosovo Police for the north, Veton Elshani, as saying police searches for some of the assailants who fled the area ended late on September 24. He did not say when they would resume.
The incident occurred early on September 24 when Kosovo Police were in a standoff with some 30 attackers dressed in security- or military-like uniforms who may have ties to the Orthodox monastery complex in the village of Banjska, where the deadly encounter began around 2:30 a.m. local time, sparking vague accusations of involvement by neighboring bitter rival Serbia.
During the standoff, Kosovar police said three attackers had been killed and six people arrested, including two of the attackers and four others found to be in possession of radio communications equipment and had discovered a "significant amount" of weapons, ammunition, and other equipment.
Details remained scarce and it wasn't immediately clear how the remaining suspected assailants may have escaped or where they were heading.
Serbian President Aleksandar Vucic, in a speech late on September 24, said he was sorry that a police officer was killed, but he blamed the Kosovar leader, saying that ethnic Serbs there "did not want to suffer [Prime Minister Albin] Kurti's terror any longer."
"I do not want to justify the murder of an [ethnic] Albanian policeman in any way, nor can I justify it. It is an act of condemnation and it is something that no one needed," the Serbian president said.
He denied that Belgrade was involved in the overnight incident and said two of those killed were from North Mitrovica, without providing their identities. He also vehemently stated that Serbia would "never" recognize the independence of Kosovo, its former province, "neither formally nor informally." He did add, however, that Belgrade was willing to talk to Pristina.
Kurti earlier told a news conference that "there are at least 30 heavily armed people, professionals, military and police, who are under the siege of our police forces and whom I invite to surrender to our security bodies."
He said Kosovar security authorities and prosecutors would scramble "to understand more about these uniforms."
"It seems that this is a well-organized action, which is why it is more dangerous, because it suggests that there are groups on the ground who are interested in causing violence and are ready to organize and find weapons that will enable them to do so," Charles Kupchan, a professor at Georgetown University and former director of European affairs at the U.S. National Security Council in the administrations of Bill Clinton and Barack Obama, told RFE/RL.
Serbia does not recognize the 2008 declaration of independence of its mostly ethnic Albanian former province, with many ethnic Serbs in Kosovo following suit while remaining dependent on so-called parallel structures that Pristina regards as illegal.
EU foreign policy chief Josep Borrell said he "condemn[s] in the strongest possible terms the hideous attack by an armed gang against Kosovo Police officers in Banjska/Banjske" and said more innocent lives were in danger "in ongoing hostilities" around the monastery.
He said the EU's peacekeeping force, EULEX, was "on the ground" as a second security responder and was in touch with authorities and with NATO KFOR peacekeepers.
Western officials mediating talks with Serbia and Kosovo have signaled frustration since negotiations this month that also involved Serbia's Vucic failed to achieve a breakthrough on normalization.
Those talks are part of a decade-long U.S. and EU diplomatic push toward formalized relations and to repair some of the wounds from bloody internecine wars in the 1990s after the breakup of Yugoslavia.
In May and June, Kurti ignored outside warnings and tried to forcibly install four mayors in Serb-majority northern municipalities following boycotted by-elections to fill posts vacated by protesting Serbs.
The resulting tensions erupted into violence that injured dozens of NATO KFOR peacekeepers and some ethnic Serbian protesters.