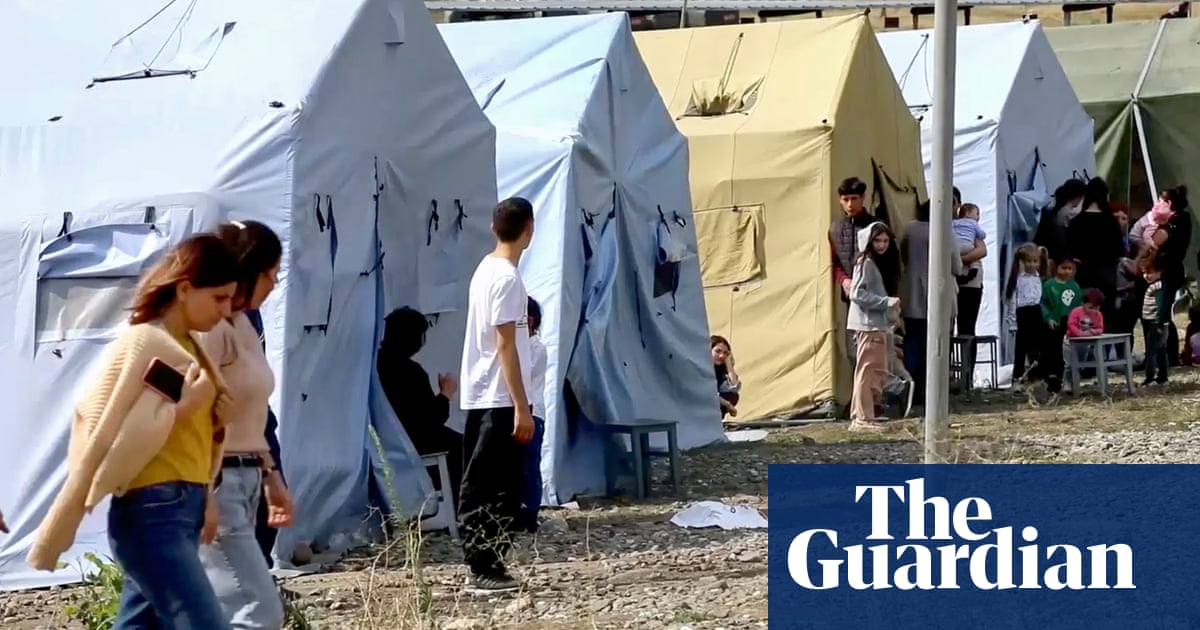 Armenia's prime minister, Nikol Pashinyan, has expressed hopes that ethnic Armenians can stay in Nagorno-Karabakh amid fears that Azerbaijan, which says it controls the region after a military offensive this week, is seeking to push out tens of thousands of people.
Speaking during a government meeting in Yerevan, Pashinyan said Armenia would welcome ethnic Armenians who lived in the breakaway region but mass resettlement would only happen if it became impossible for Karabakh Armenians to remain there.
About 120,000 ethnic Armenians live in the South Caucasus enclave, which is recognised internationally as part of Azerbaijan but had largely been under ethnic Armenian control since 1994.
A ceasefire agreement was reached on Wednesday between Azerbaijan and the local government in Nagorno-Karabakh, a day after Azerbaijan launched its new military offensive. The two sides held the first round of talks on Thursday to discuss the future of the region and its residents.
A senior Azerbaijani official said on Friday that Baku would ensure that civilians could travel safely in their own vehicles along the road leading from Nagorno-Karabakh to Armenia through the Lachin corridor.
Hikmet Hajiyev, a foreign policy adviser to Azerbaijan's president, also said Azerbaijan would guarantee an amnesty for Karabakh Armenian fighters who gave up their arms, though he claimed some Karabakh military units had said they would continue their resistance.
Meanwhile, a Karabakh representative told the AFP news agency that Azerbaijani troops were on the edge of the region's capital, Stepanakert, which is known in Azerbaijan as Khankendi, prompting residents to hide in basements in fear.
"The situation in Stepanakert is horrible, Azerbaijani troops are all around the city, they are on the outskirts and people fear Azerbaijani soldiers could enter the city at any moment and start killings," said Armine Hayrapetyan, a separatist spokesperson.
Pashinyan stressed on Thursday evening that the ceasefire in the breakaway region had largely been held. But other Armenian officials said Azerbaijan was preparing for an "ethnic cleansing" in the region.
Speaking at a meeting of the UN security council, Armenia's foreign minister, Ararat Mirzoyan, said: "The intensity and cruelty of the offensive makes it clear that the intention is to finalise ethnic cleansing of the Armenian population of Nagorno-Karabakh.
There have also been warnings over a deteriorating humanitarian situation in Karabakh. Karabakh's human rights ombudsman, Gegham Stepanyan, said on social media that the streets of Stepanakert were "filled with displaced people, hungry, scared, and in uncertainty".
"People are desperately looking for each other," Stepanyan said.
Observers have said many in Karabakh were already weakened after Azerbaijan established a blockage of the Lachin corridor last spring, cutting off the flow of people and goods between Armenia and Nagorno-Karabakh.
On Friday, the ethnic Armenian leadership of Nagorno-Karabakh said an agreement had been reached for a humanitarian convoy to come from Armenia.
There have been unconfirmed reports of civilians being targeted by Azerbaijani forces. One separatist official in Nagorno-Karabakh said at least 200 people had been killed and more than 400 wounded after Azerbaijan launched its offensive, including at least 10 civilians and five children.
Siranush Sargsyan, a freelance journalist in Nagorno-Karabakh, shared videos online showing destroyed civilian vehicles and damage to apartment buildings on Azatamartikneri Avenue in Stepanakert.
Nagorno-Karabakh and sizeable surrounding territories had been under ethnic Armenian control since the end of a separatist war in 1994, but Azerbaijan regained the territories and parts of Nagorno-Karabakh during the 2020 fighting. That ended with an armistice placing Russian peacekeepers in Nagorno-Karabakh.
On Thursday, Azerbaijan's president, Ilham Aliyev, apologised in a phone call with Vladimir Putin for the death of six Russian peacekeeping troops who came under Azerbaijani fire while returning from a patrol in Nagorno-Karabakh.