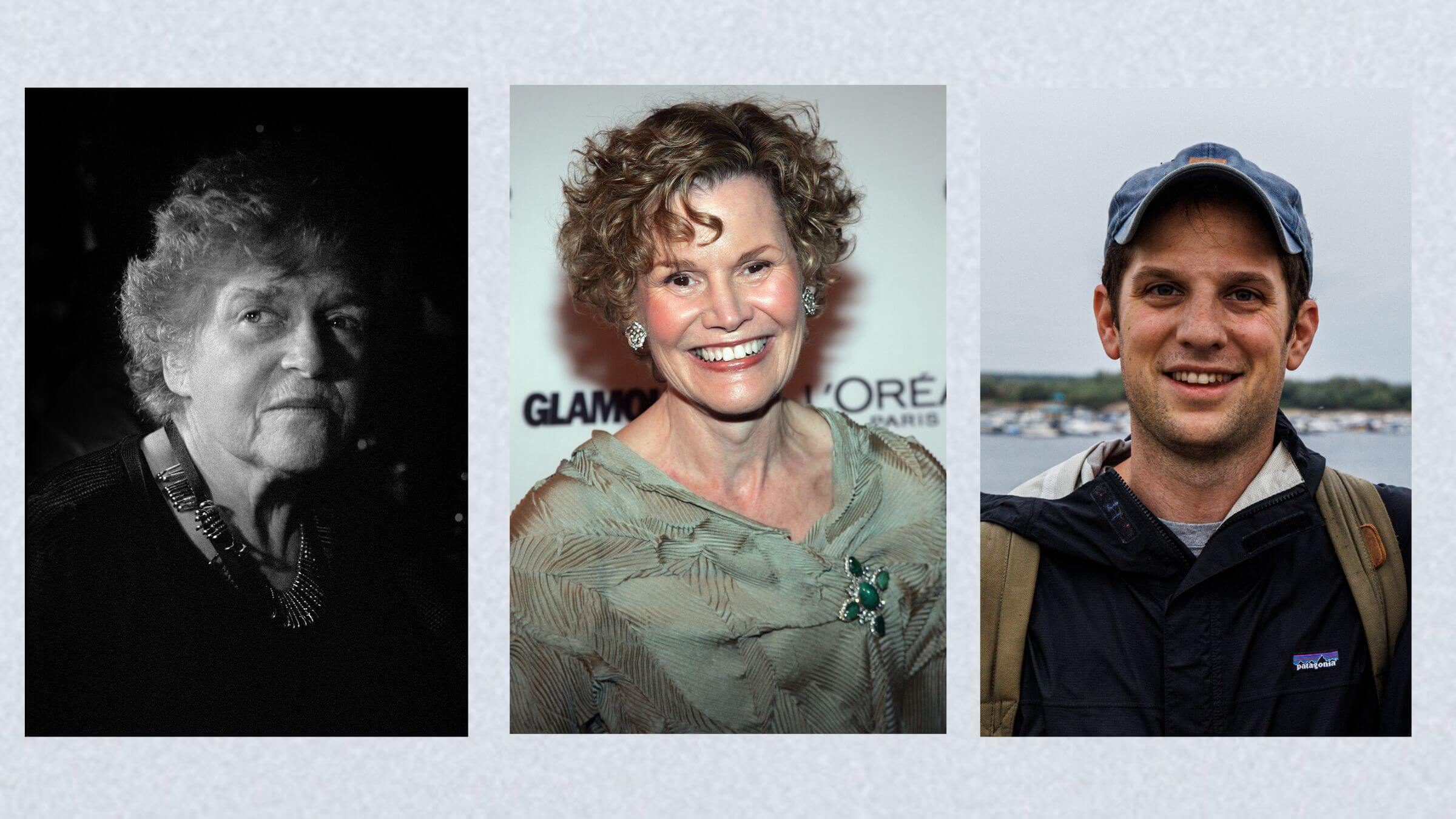 U.S. Ambassador Deborah Lipstadt, journalist Evan Gershkovich, author Judy Blume and more than a half-dozen other prominent Jews are on Time Magazine's list of "The 100 Most Influential People of 2023."
Others on the list include comedian Nathan Fielder, rapper Doja Cat, author Neil Gaiman, economist Janet Yellen, OpenAI co-founder Sam Altman, Disney CEO Bob Iger and actress Natasha Lyonne. Time also saluted actress Lea Michele, who was raised Catholic but whose father was Jewish and who is starring on Broadway in Funny Girl as one of the theater's most beloved Jewish women, Fanny Brice.
The tribute to Lipstadt, a Holocaust scholar and U.S. special envoy to monitor and combat antisemitism, is written by Anti-Defamation League CEO Jonathan Greenblatt. He calls Lipstadt an eshet chayil, a Hebrew term from the Book of Proverbs for a woman of valor. Lipstadt "exemplifies this image, tirelessly working to protect Jewish communities, and to build a world where all are safe and protected." Lipstadt's books include The Eichmann Trial and Denying the Holocaust, as well as a forthcoming biography of Golda Meir.
Gershkovich, the Wall Street Journal reporter imprisoned in Russia on espionage charges the U.S. government says are false, is the U.S.-born son of Soviet Jewish émigrés. His case has attracted a growing #FreeEvan movement whose supporters include Natan Sharansky and Brittney Griner. Time's tribute noted that Gershkovich continued reporting on Vladimir Putin's authoritarian regime despite the risks, adding that "the fewer journalists there are like Gershkovich in Russia, the more freedom Putin gets to rule by."
Actress Molly Ringwald wrote the essay about Blume, the author of Are You There, God? It's Me, Margaret, and other young-adult books, many of which have been banned. "The coming-of-age films I am known for from the '80s seemed revolutionary, at the time, for centering on a young female protagonist," Ringwald said. "In truth, Judy Blume was doing it long before." Blume tackled "body shame, bullying, grief — there was no subject that Judy wasn't up for exploring in her books." Her stories helped readers "enter young adulthood a lot more informed and a little less afraid."
Fielder, the comedian, actor and director, is lauded by actress Emma Stone for shows like Nathan for You and The Rehearsal. "He mines the absurdities of how people relate to one another and how he relates to them, and it all makes you think, laugh, then think some more," she said. In the unscripted quasi-reality show The Rehearsal, Fielder pretended to be the father of a child with a Christian mother — and secretly arranged a Hebrew school tutor for the kid. Fielder grew up in a Jewish family in Canada.
Doja Cat, the rapper, singer and songwriter, was raised in LA by a mother of Ashkenazi heritage. Her father is a Black South African but she identifies as Jewish. "My mom was kinda a hip-hop head, really ironic because like — I'm Jewish, my grandma's Jewish, she's white, and she was never exposed to music like that," she said in 2013. The Time tribute was written by Baz Luhrmann, who directed the Elvis biopic for which Doja Cat's hit song "Vegas" sampled Elvis Presley's "Hound Dog." She "understood the importance of translating 'Hound Dog' for a new audience," Luhrmann wrote, as "an act of translating the roots of Black  music."
Gaiman, the British author, is saluted for his "darkly fantastical and occultish" storytelling, including his award-winning comic book series The Sandman. "The way he writes makes you feel like you're being let in on a massive secret," writes actor James McAvoy, who voiced Dream/Morpheus in Netflix's Sandman adaptation. "His worlds are hidden, shrouded in mystery, yet they're never that far removed from ours." Gaiman's family is of Belgian and Eastern European Jewish origin.
Altman, whose OpenAI developed ChatGPT, is saluted for acting "to responsibly" bring artificial intelligence to the public. "When he couldn't raise enough money as a nonprofit, he structured the company as a capped-profit model, forgoing ownership," according to Time. Altman grew up in a Jewish family in St. Louis.
Yellen makes the list as "the only person in history" to serve as the president's chief economic adviser, vice chair and chair of the Federal Reserve and secretary of the Treasury. "With the country facing the perils of inflation, recession, a possible federal default, and a metastasizing banking crisis, the success of the Biden presidency and America's place in the world rest on her policy judgments," wrote former U.S. Treasury Secretary Larry Summers. Yellen grew up in a Jewish family in Brooklyn.
Time describes Iger, who heads the Walt Disney Co., as "one of the world's most admired CEOs," having "led landmark acquisitions, championed culture-defining films, launched innovative distribution platforms, and delivered strong financial results." Iger was CEO from 2005 to 2021, when he retired, but he returned to run the company in late 2022, replacing Bob Chapek after Chapek's brief and tumultuous stint. Iger grew up in a Jewish family in New York City.
Lyonne (née Braunstein) won an Emmy for her portrayal of Nicky Nichols on Orange Is the New Black. She was raised Orthodox and has described her family as "my father's side, Flatbush, and my mother's side, Auschwitz." (Her maternal grandparents were Holocaust survivors.) "Natasha is always the coolest person in the room," wrote Oscar-winning director Taika Waititi. "Maybe it's a little bit of the hair and the voice, but mainly she exudes that rare magnetism of old Hollywood where you're immediately drawn to her corner of the room."
Also on the list is Lea Michele, whose father Mark Sarfati is a Sephardic Jew. She's known for playing Jewish characters like Glee's Rachel Barbra Berry and of course her star turn in Funny Girl, reinventing a role that made a young Barbra Streisand a superstar in the 1960s. Michele did "the impossible: made Fanny her own, to great critical and commercial acclaim," wrote Glee creator Ryan Murphy in his Time essay, adding that Michele is now "the toast of Broadway." Michele is married to Zandy Reich, a Jewish businessman, and has talked about "blending" their cultures with "things that really honor both of our heritages."
The post Deborah Lipstadt, Judy Blume, Evan Gershkovich among Time's 'Most Influential People' appeared first on The Forward.