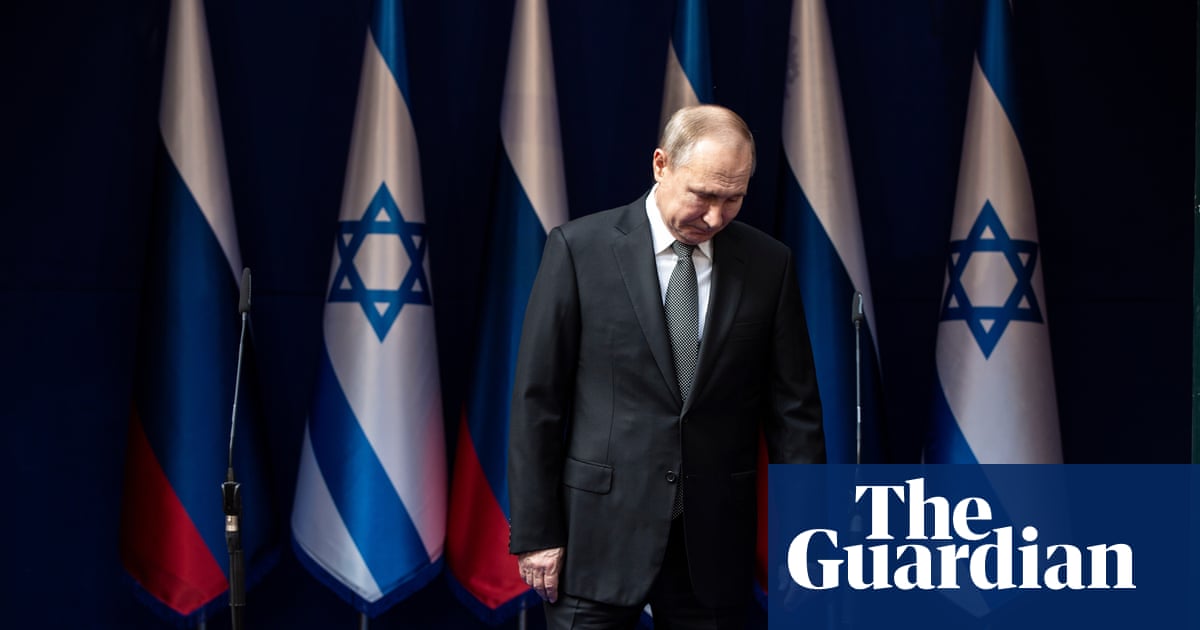 Israel's prime minister, Benjamin Netanyahu, has long portrayed himself as a friend of Vladimir Putin. In a memoir published during Russia's war on Ukraine, Netanyahu repeatedly lauded the Russian leader for his intellect and his "particularly friendly attitude" toward the Jewish people.
Putin, too, has over the years cast himself as a loyal ally of the Israeli state, promoting cultural ties and visa-free travel between the two countries.
But after the worst attack on Israel in decades, the much-touted friendship appears to have vanished.
Four days after the start of Hamas's surprise attack, Putin is yet to call Netanyahu, while the Kremlin has not published a message of condolence to the country, a diplomatic gesture of goodwill that Russia routinely sends out to global leaders following deadly incidents on their soil.
On Tuesday, in his first comments about the Hamas incursion, Putin said the explosion of violence between Israel and the Palestinians showed that US policy had failed in the Middle East and had taken no account of the needs of the Palestinians.
"I think that many people will agree with me that this is a vivid example of the failure of United States policy in the Middle East," Putin said, without acknowledging the gruesome deaths in Israel.
The shift in tone appears to point to a larger rift between the two countries that has taken place since the start of the war in Ukraine.
For years, Putin has sought to cultivate strong ties with Israel while also backing the Palestinian cause, an alliance which stems from the Soviet area.
Russia's delicate diplomacy with Israel appeared to bear fruit when the country refused to participate in western sanctions against Russia, much to the chagrin of Kyiv, which accused Israel of ignoring the suffering of Ukrainian Jews.
But below the surface, there had been signs that the relationship between Russia and Israel was deteriorating over Putin's claims that he was fighting "neo-Nazism" in Ukraine, while shifting his country into the orbit of Iran, an arch-enemy of Israel.
"The warm relationship [between Russia and Israel] that we have seen for years under Putin has cooled down. We are in a different world now," said Pinchas Goldschmidt, who served as the chief rabbi of Moscow for nearly 30 years until fleeing the country over his opposition to the Ukraine war.
"Israel has always been careful to maintain a good relationship with Moscow given Russia's large Jewish community and its influence over Syria," Goldschmidt said, speaking to the Guardian by phone from Israel. On Saturday he attended the funeral of Yuval Ben Yaakov, an Israeli soldier killed in the fighting, who was the son of another former Moscow rabbi.
Goldschmidt said many in the Jewish community have been left deeply uncomfortable with Putin's framing of the war, comparing Ukraine's government to Nazi Germany to justify his invasion of the country.
Last summer, these tensions first spilled over into the public, when Russian officials accused Israel of supporting the "neo-Nazi regime" in Kyiv. The spat was ignited after Russia's foreign minister, Sergei Lavrov, recycled an antisemitic conspiracy theory claiming that Adolf Hitler "had Jewish blood" – comments that Israel described as "unforgivable and outrageous".
The Kremlin also cracked down on the Russian branch of the Jewish Agency, a private charity closely affiliated with the Israeli government that helped tens of thousands of highly skilled Jewish Russians to immigrate to Israel.
Perhaps more worryingly for Israel was Moscow's growing reliance on Iran. Russia, isolated from western markets, has invested heavily in buying Iranian suicide drones to attack Ukrainian cities and civilian infrastructure, while the US has warned that Iran was seeking to acquire large numbers of Russian attack helicopters, warplanes and air defence systems.
As the US pledged to send its own military aid to Israel following the Hamas assault, some pro-Kremlin commentators expressed hope that the Israeli-Hamas war would drain western resources away from Ukraine.
Sergey Mardan, a Russian propagandist and television presenter, wrote: "This mess is beneficial for Russia, because the globalist toad will be distracted from Ukraine and will get busy trying to put out the eternal Middle Eastern fire."
There was also a sense of glee in Moscow over Israeli military and intelligence blunders, which were presented as a testament of western weakness.
"Apparently, the IDF leadership … is resting on the laurels of long-past victories," military expert Boris Rozhin, who is close to the Russian forces fighting in Ukraine, wrote on Telegram.
Andrei Soldatov, an expert on Russia's security services, said such comments "unmasked the acute psychological trauma suffered by the Russian military after its disastrous offensive against Ukraine in the early months of 2022."
"That loss of global respect is hard to bear for a nation with a proud military tradition. So, the relief offered by Hamas has triggered an avalanche of schadenfreude. Did you laugh at our incompetence? Now it's our turn," Soldatov said.
On Russian state television, commentators also ridiculed the tens of thousands of Russian Jews who left for Israel following Russia's invasion of Ukraine in order to avoid mobilisation.
Addressing the Russian parliament on Wednesday, Vyacheslav Volodin, the speaker of the Duma, said that Russians who fled the country to side with Ukraine should be charged with treason and sent to work in mines.
"We're probably … talking about mines and we need to find territories where the weather is more constant, where there's no summer," Volodin said.
Meanwhile, Ukraine appears to have cast aside its previous grievances with Israel, eager to fill the friendship vacuum left behind by Russia.
In a speech made alongside Nato secretary general, Jens Stoltenberg, Ukraine's president, Volodymyr Zelenskiy, likened Hamas's assault on Israel this weekend to Russia's invasion of Ukraine and said his people stood with Israel because they understood what it meant to suffer terror attacks.
"The only difference is that there is a terrorist organisation that attacked Israel, and here is a terrorist state that attacked Ukraine," Zelenskiy said.