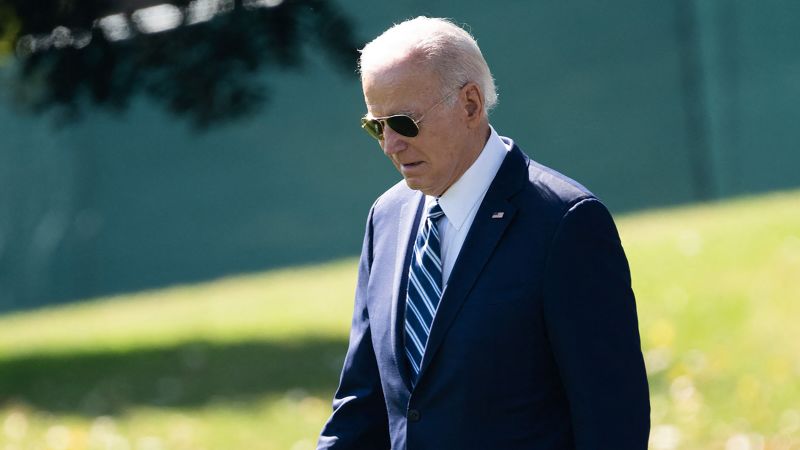 President Joe Biden will make an extraordinary wartime visit to Israel this week as he seeks to demonstrate staunch support for the country as it works to eliminate Hamas while also pressing for ways to ease humanitarian suffering in Gaza.
The dueling objectives, spelled out by his top diplomat Monday evening, bring with them significant risks for the president as he works to prevent the crisis in the Middle East from widening.
Aides said Biden had expressed a strong interest in making the journey after being invited over the weekend by Prime Minister Benjamin Netanyahu, whom Biden has known for four decades. He spent Monday deliberating over the trip at the White House with his top national security and intelligence advisers.
Meanwhile, in Tel Aviv, Secretary of State Antony Blinken was convening a marathon session with top Israeli officials to discuss opening Gaza to humanitarian aid and preventing civilians from getting caught up in Israel's response to the terror attacks.
In announcing Biden's Wednesday trip after more than seven hours of negotiations, Blinken said that the United States and Israel "have agreed to develop a plan that will enable humanitarian aid from donor nations and multilateral organizations to reach civilians in Gaza."
The US president will also travel to Jordan, where he will meet with King Abdullah II, President Abdel Fattah el-Sisi of Egypt, and Palestinian Authority President Mahmoud Abbas. The top US diplomat in recent days met separately with the three leaders – all of whom have condemned the situation in Gaza.
The security risks of a diplomatic visit to Israel were starkly illustrated Monday when Blinken, in his meeting with Netanyahu, was forced to shelter in place after air sirens warned of incoming rockets. White House officials said they'd carefully weighed the risks of a presidential visit, and deemed it safe enough both to execute and announce ahead of time.
The president's visit will build on Blinken's seven nation, multi-day tour of the Middle East, which comes as the US tries to strike a delicate balance of providing unwavering support for Israel's military operations while mitigating the humanitarian catastrophe in Gaza and stopping the war from spreading to further fronts.
Biden will "make it clear that we want to continue to work with all our partners in the region, including Israel, to get humanitarian assistance and again to provide some sort of safe passage for civilians to get out," National Security Council spokesman John Kirby said Monday evening.
It wasn't clear ahead of Biden's visit whether any progress had been made on the opening of the Rafah crossing in Egypt – the only viable route to access Gaza. Blinken said the agreement to work on the plan was done at the US' request, and they "welcome the government of Israel's commitment to work on this plan."
"It is critical that aid begin flowing into Gaza as soon as possible," Blinken said, noting that the US shares "Israel's concern that Hamas may seize or destroy aid entering Gaza or otherwise preventing it from reaching the people who need it."
"If Hamas in any way blocks humanitarian assistance from reaching civilians, including by seizing the aid itself, we'll be the first to condemn it. And we will work to prevent it from happening again," he said.
Biden, he said, "very much looks forward to discussing it further" during his visit.
In weighing Netanyahu's invitation with his team, Biden factored in both the symbolism of a visit and its practicalities. Aside from a high-profile show of support for Israel, the trip will send a warning to other players in the region, namely Iran and its Hezbollah proxy in Lebanon, about becoming further engaged in the conflict.
But it will also link Biden more closely with the Israeli response in Gaza, including concerns over a mounting humanitarian crisis, and could act as a tacit endorsement of Netanyahu's decisions.
The pressure on Biden to encourage restraint was evident Monday in front of the White House, where a large protest led by progressive Jewish groups called on him to push for a ceasefire. Loud singing and chanting could be heard from inside the gates.
The conflict is forcing a new assessment of the administration's immediate foreign policy priorities, with the reality setting in that renewed violence in the Middle East will now occupy the bulk of the president's time at least in the near-term.
Huddling in the Oval Office on Monday, Biden discussed the latest developments on the ground with top national security advisers, including the administration's two leading intelligence officials.
While Biden has stopped well short of encouraging a ceasefire – the word hasn't been used at all in the administration's response so far – he has issued steadily stronger warnings about protecting civilian life, including during his telephone calls with Netanyahu. Biden and Blinken, advisers say, have upheld a moral high ground and cemented credibility with the Israelis by remaining sympathetic to civilian and humanitarian needs, while reinforcing their commitment to the security state.
Traveling to Israel in person may provide Biden – who has long espoused the importance of face-to-face meetings – a better opportunity to convey those views to his Israeli counterpart, a leader with whom he believes he has a deep understanding. Before war in Israel broke out, Biden and Netanyahu were planning to visit in person again at the White House, a personal invitation Biden extended when the two last met in New York City.
Already, in their phone calls, the men have discussed the importance of adhering to the rules of war. In an interview that aired Sunday, Biden offered his most public statement urging restraint, saying it would be a "mistake" for Israel to try reoccupying Gaza.
Speaking to reporters Monday, a spokesperson for the Israel Defense Forces said a visit by Biden would have "strategic importance" for the entire Middle East.
"The most senior representative of the USA comes to Israel for a full report on the war in the Middle East and all the action we have to take," Rear Adm. Daniel Hagari told reporters when asked earlier about a possible visit by the US president.
"Right now, we are focusing on Gaza and the steps that we are going to take to prepare for war and that is how we will progress," he added.
The last time that Biden made a last-minute and highly secretive trip abroad was in February, when he visited Kyiv, Ukraine, around the one-year anniversary of Russia's invasion.
With only a small group of some of his senior-most advisers even aware of the plans ahead of time – and ultimately with just one reporter and one photographer in tow – the president quietly rode a train across the Polish-Ukrainian border to enter an active war-zone.
His brief visit served as a remarkable show of solidarity for the Ukrainian people and its president, Volodymyr Zelensky, which the White House hoped would also translate to a forceful rallying cry for the US' allies to continue supporting Ukraine's cause.
But unlike his visit to Ukraine earlier this year, his expected to Israel this week marks a remarkably swift decision to visit the country only days after the outbreak of war. Those familiar with Biden's decadeslong relationship with Netanyahu say it is clear the administration's response to Hamas' attacks is being shaped in no small way by Biden's personal friendship with Netanyahu – and his desire to demonstrate his unequivocal support for the prime minister.
American officials spent much of the weekend watching with growing concern the potential for the war widening, and sending public and private signals to Iran to stay out of the conflict.
From his first phone call with Netanyahu last weekend, Biden has raised concern that a northern front could open along Israel's border with Lebanon, where the Iran-backed Hezbollah has been engaging sporadically with Israeli forces.
US national security adviser Jake Sullivan said Sunday that the administration was engaged in back-channel diplomacy with Tehran to send the same message it has been conveying publicly about not escalating the crisis further.
"Rhetorically, they're cranking it up," said a person close to the situation. "But they're backing it up with hardware."
For Biden and his team, the risks of a wider conflict include the potential of further engaging American military assets in defending Israel. Though the White House has said repeatedly there are no plans to send American troops to Israel – in part because Israel itself does not want it – there is the potential US air and naval assets become further involved if a multi-front war breaks out.
Over the weekend, Biden ordered a second US aircraft carrier group to the eastern Mediterranean, bolstering what he and other officials have described as a deterrence posture. The military muscle is intended to send a signal to Iran to stay out.
Yet behind the scenes, Biden and his team are discussing the various possibilities should the crisis escalate.
"We can't rule out that Iran would choose to get directly engaged some way. We have to prepare for every possible contingency," Sullivan said on CBS.
The outbreak of violence is forcing the Biden administration to closely engage with – and heavily lean on – actors in the region with histories of glaring human rights violations.
US officials have been actively discussing with their counterparts in Egypt the establishment of a humanitarian corridor that would allow civilians – including hundreds of American citizens – to escape Israel's counteroffensive attacks raining down in Gaza. But those efforts have yet to be fruitful.
Over the weekend, scenes of chaos and confusion poured out of southern Gaza, where families attempting to leave found that the Rafah crossing between Gaza and Egypt remained closed, despite having been previously told that there would be a midday window to leave.
The issue had been a major topic of discussion between Blinken and el-Sisi, and after their in-person meeting, Blinken pledged Sunday that "Rafah will be open."
Blinken's frenzied multi-day trip to the region also included a stop in Saudi Arabia, a country that Biden, as a presidential candidate, had pledged to make a "pariah" on the global stage after the killing of journalist Jamal Khashoggi. The secretary of state met with Saudi Crown Prince Mohammed bin Salman, the country's de facto leader whom the US intelligence community concluded had approved the operation to kill Khashoggi.
Such direct and swift courtship of the region's strongman leaders is a clear signal of the administration's determination to prevent the conflict from spreading beyond Israel's borders.
This headline and story have been updated with additional developments.