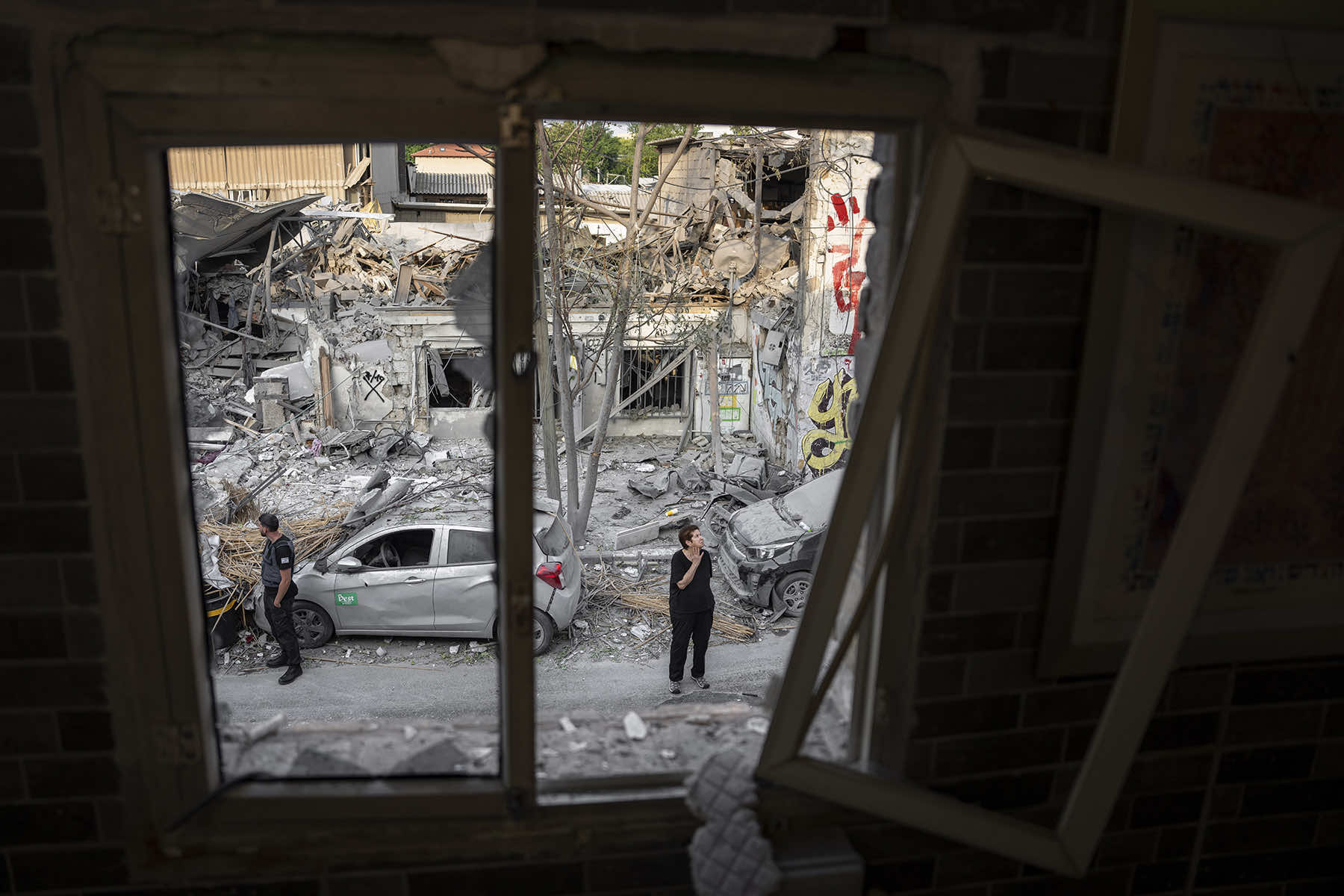 The Kremlin was criticized for launching propaganda operations on October 7 intended to exploit the Hamas attacks on Israel, in an effort to divert Western support and attention away from its brutal full-scale invasion of Ukraine.
The Institute for the Study of War (ISW), a Washington-based think tank, reported its assessment of the situation on October 8.
"The Kremlin amplified several information operations following Hamas attacks in Israel, primarily blaming the West for neglecting conflicts in the Middle East in favor of supporting Ukraine and claiming the international community will cease to pay attention to Ukraine by portraying attention to the Middle East or alternatively Ukraine as a zero-sum comparison."
Dmitry Medvedev, the Russian Security Council Deputy Chairman, posted a statement on social media claiming that the U.S. and Western allies should have been focused on the Palestinian-Israeli situation, instead of military aid to Ukraine.
"Clashes between Hamas and Israel on the 50th anniversary of the Yom Kippur War come as an expected development. This is what Washington and its allies should be busy with. The conflict between Israel and Palestine has been going on for decades, with the U.S. the key player in it. But instead of actively working at Palestinian-Israeli settlement, these morons have interfered with us, and are providing [slur against Ukraine] with full-scale aid, pitting the two closely related peoples against each other."
Pro-Russian military bloggers have also largely focused on the Hamas attacks in Israel, actively promoting political narratives. Kremlin-endorsed propagandists celebrated the fighting as a distraction from Ukraine, produced endless conspiracy theories to spin the news, and delighted in the fear of Russian Jews who have emigrated to Israel.
"Iran is our real military ally. Israel is an ally of the United States. Therefore, choosing a side is easy!" said Sergey Mardan, one of Russia's best-known propagandists.
According to ISW, Russian narratives surrounding the Hamas attacks are aimed at driving a wedge in military support for Ukraine, and attempting to demoralize Ukrainian society by claiming Ukraine will lose support from Western allies.
Volodymyr Zelenskyy, President of Ukraine, addressed the attack on October 7, saying that when such a terrorist attack occurred, everyone who valued life must stand in solidarity.
"The whole world has seen horrific footage from Israel of terrorists abusing women and men, taking even the elderly hostage without mercy. My condolences to all those whose loved ones have been killed! I wish a speedy recovery to everyone wounded," said President Zelenskyy. "We in Ukraine are particularly sensitive to what has happened. Thousands of missiles in the sky of Israel. People killed right in the streets. Bullet-riddled cars with civilians. Abuse of hostages. Unfortunately, terror has also brought all this to the streets of Ukrainian cities and villages."
He said that the terrorist attack on Israel was thoroughly prepared, and the whole world understood which sponsors of terror could have encouraged and organized this attack. His reference was a direct nod to Moscow and Tehran.
The Milwaukee Jewish Federation (MJW), along with the entire Jewish community in Milwaukee, reacted with shock, outrage, and horror to the surprise attack launched on Shabbat – the Jewish Sabbath. MJW responded with a statement posted to social media.
"On the 50th anniversary of the Yom Kippur War, Hamas — the terrorist government ruling Gaza — has launched more than 2,500 rockets from Gaza on cities across central and southern Israel, reaching as far as Jerusalem, while terrorists infiltrated communities in the country's south by land, sea, and air. Dozens of Israelis have reportedly been kidnapped and taken hostage. Many are still trapped in their homes waiting desperately to be saved, as live combat in many border communities is ongoing. We stand with the people of Israel as they face yet another war seeking the demise of Israel."
Sergej Sumlenny, a German expert on Eastern Europe, believed that Russia was involved with the October 7 attacks by Hamas on Israel.
"Russia is clearly behind this. No ally of HAMAS except of Russia has experience of using bomb-dropping drones against modern battle tanks. Only Russia could train HAMAS in this," he wrote on social media.
Marko Mihkelson, Chairman of Estonia's Foreign Affairs Committee, has also pointed out the relevance of Russian attempts at destabilizing regional security.
"The timing and reasons for the Hamas attack are linked to Russian and Iranian interests. Hamas is known to be strongly supported by both countries. Hamas leaders have twice held consultations in Moscow in the last 12 months. It is quite obvious that Russia has a wider interest in both distracting attention from Ukraine and complicating Israel's rapprochement with Saudi Arabia by creating tension in the region."
It was previously reported that Russia's dictator Putin welcomed the return of Benjamin Netanyahu as head of the most far-right Israeli government, because of his intention to strengthen cooperation. Netanyahu supposedly had "chosen Putin over Biden" and refused to arm Ukraine against Russia.
A former chief-of-staff for the Israeli leader revealed in April 2023 that Netanyahu was aligning himself with Russia's "win at all costs" mentality, seeking unilateral undemocratic control much like Putin.
"The instability created by the attack on Israel is intended to pull U.S. attention, as well as resources, away from the war in Ukraine and prevent Israel-Saudi normalization. Don't imagine this is just an unprovoked, brutal attack by a bunch of terrorists from Gaza. It is much more than that. The hands that pushed these killers forward are in Moscow. Unwilling to take the fight directly to NATO, Putin instead has been fomenting conflict between Azerbaijan and Armenia, Serbia and Kosovo, in West Africa, and now in Israel." – Colonel Richard Kemp, former commander of UK Armed Forces
Moscow has maintained and developed connections with Palestinian terrorist groups and individual extremists, going back to the Soviet days when Putin himself as a KGB officer was dealing with Middle East terrorists.
Just as Russia used Iran to supply large numbers of drones to attack Ukrainian civilians, it is now using Iran to encourage and enable these attacks in Israel. Iran is a willing partner with leaders that have repeatedly sworn death to Israel and America, as are its proxies in Gaza and also in Lebanon.
The criminally indicted ex-President Donald Trump, a 2024 Republican contender for the White House and ally of Russia's dictator, was quick to push blame for the attacks on President Joe Biden. The MAGA leader was refuted by Secretary of State Antony Blinken.
"Some who are advancing this false narrative, they're either misinformed or they're misinforming. And either way, it's wrong," said Secretary Blinken in broadcast interviews, calling it "deeply unfortunate that some are playing politics when so many lives have been lost and Israel remains under attack."
While Secretary Blinken detailed Iran's support of Hamas, he acknowledged that "we have not yet seen evidence that Iran directed or was behind this particular attack."