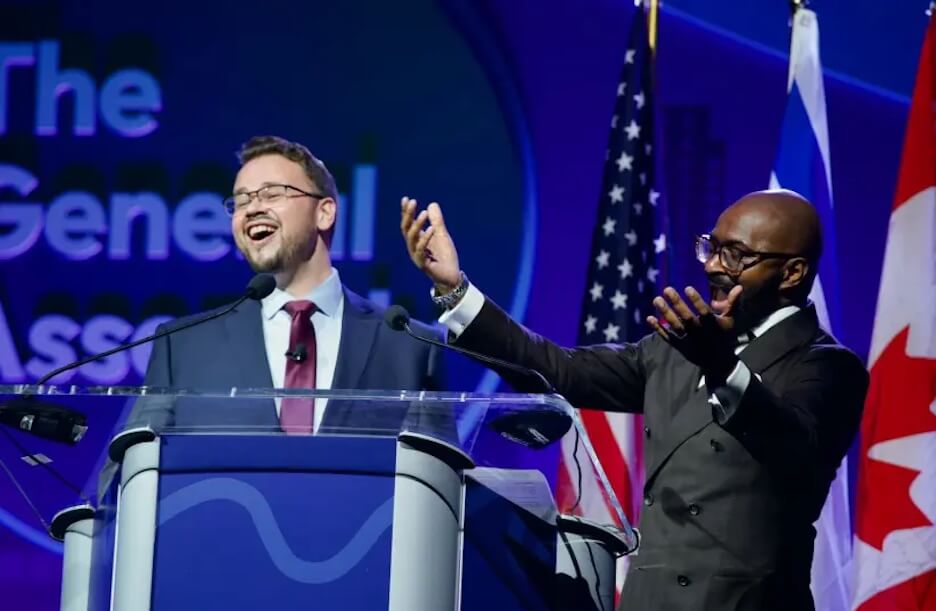 Buffie Longmire-Avital has been to Israel twice, first to help lead a Birthright trip and again with her family while her husband was conducting academic research. Longmire-Avital, who is Black and studies microaggressions at Elon University, said she never felt slighted because of her race in Israel.
"There was never a moment that I felt as if I was an interloper and I didn't belong there," said Longmire-Avital.
That has made Longmire-Avital excited for her third trip, which will take place later this month with more than two dozen other non-white North American and Israeli Jewish leaders, at least the second trip of its kind organized in the last two years.
The Jewish Federations of North America is organizing the five-day April trip, which will lead into the organization's annual conference in Tel Aviv. It comes at a particularly tumultuous time for Israel, where for 14 weeks Israelis — hundreds of thousands in total — have taken to the streets to protest a government plan they say would hobble democracy and impinge on minority rights.
The delegation of Jews of Color will visit a new Ethiopian cultural center in Tel Aviv, called Battae, and they will also meet with Tareq Abu Hamed, a leading Palestinian scientist and academic, Jerusalem city leaders and Israeli social media influences.
Isaiah Rothstein, founder of JFNA's diversity program, said the trip will also include plenty of unstructured time. "It's an opportunity for us to rest, to reflect, to connect, to consider our relationships to each other as JOC leadership," Rothstein said.
'An open space'
Participants include SooJi Min-Maranda, director of Aleph, the Jewish renewal movement, Mira Rivera, rabbi at the Harlem Jewish community center, and Aaron Samuels, a poet and the founder of Blavity, a Black news website.
This trip, which begins April 19, comes on the heels of a similar visit to Israel organized by the Jewish Multiracial Network and UJA-Federation of New York last year, which Ilana Kaufman, chief of the Jews of Color Initiative, believes was the first trip of its kind. That trip, which took place last August, accepted applications from the public, while the federations trip was invite-only and focused on community leaders.
The federation trip comes at a pivotal time for the relationship between American Jews and Israel, and follows a rare rebuke of the Israeli government from JFNA, the powerful umbrella organization representing more than 100 federations across North America, over the country's planned judicial overhaul.
Rothstein, who has expressed sympathy with the Israeli protesters opposed to the proposed court changes on social media, said the trip would carve out room to discuss difficult political questions.
"We're creating an open space to dig into some of the fractal and wedge issues in Jewish life — whether in Israel or America," he said. "We're not shying away from any of these issues."
He also acknowledged the complexity of bringing American ideas about diversity to Israel. There the Jewish population includes many Jews with roots in the Middle East and Africa, but race is often discussed differently than it is in the U.S.
Rothstein said the first Hebrew publication of the federations' diversity program was a one-sheet explanation of what the term "Jews of color" means, to help Israelis understand the American perspective.
"It's a messy term," he said. "There are Israelis who have adopted some of these American frameworks but it doesn't neatly fit."
Longmire-Avital, the Elon University professor, said traveling to Israel was an opportunity to experience a different kind of Jewish life where she did not feel rejected because of her race, which has sometimes happened in the United States.
"We are not visitors, these are our people as well," she said. "It's our home too."
The post 'It's our home too': Jews of Color delegation readies for first national federation trip to Israel appeared first on The Forward.