A Jewish dermatologist who gave a guest lecture to Arkansas medical students found himself stiffed on his speaking fee because he refused to sign a pledge opposing the BDS movement.
Steven Feldman, a doctor at Atrium Health Wake Forest Baptist hospital in Winston-Salem, North Carolina, spoke to the group of University of Arkansas students about improving patient outcomes in February. But when he tried to go through the school's online vendor portal to set up a profile, a necessary step to collect his $500 honorarium, he saw that one of the boxes he needed to check off required him to promise not to boycott the Jewish state.
Soon, he received a note informing him that he hadn't filled out the form properly to receive payment. 
"I replied, 'No, I didn't check the wrong box,'" Feldman told the Forward. "I actively support a boycott until Palestinian families are allowed to return to their homes, the homes from which we expelled them in the creation of the State of Israel."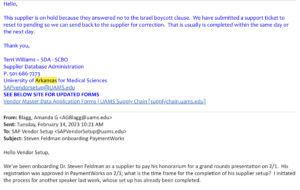 After dermatologist Steven Feldman gave a guest lecture via Zoom to University of Arkansas students, he was told he couldn't collect his $500 honorarium due to his refusal to pledge not to engage in the BDS movement. Photo by Screenshot via Steven Feldman
In 2017, the state enacted Act 710, "An Act To Prohibit Public Entities From Contracting With And Investing In Companies That Boycott Israel," making Arkansas one of over 30 states to have passed laws related to the Boycott, Divestment and Sanctions movement. BDS is a Palestinian-led grassroots campaign designed to put economic pressure on Israeli businesses, cultural institutions and universities in support of Palestinians. The Arkansas law, however, is particularly stringent, as it requires individuals or companies to pledge not to engage in BDS activities if they wish to conduct business with state-run institutions such as state schools. In February, the U.S. Supreme Court declined to hear an appeal in a case where a lower court had ruled that the editor of the Arkansas Times would be required to make such a pledge in order to receive advertisement contracts from the state. 
After the court's denial, Holly Dickson, the American Civil Liberties Union executive director for Arkansas, said such anti-BDS laws give the state the "power to force people to relinquish their First Amendment rights or pay a penalty, and that is a dangerous step backward for our rights."
Feldman said he had been vaguely aware of such a law "somewhere in the Midwest," but hadn't realized it was in effect in Arkansas until this incident. But once he saw the box on the form, he "thought that there was a very good chance I wouldn't get paid and that it would be a violation of my rights of speech."
"I don't think the states have a right to punish people for supporting peaceful boycotts, even of something we all love, like Israel, over the issue of its mistreatment of Palestinian families," he added.
Why he supports the Palestinian cause
Along with being a prominent researcher, doctor and professor, Feldman is also the curator of Promised Land: The Jewish Museum of the Palestinian Experience, an online museum and traveling exhibit. He said his support for the Palestinian cause came about after he had taken a number of trips to Israel, during which he witnessed the treatment of Palestinians firsthand and learned facts about Israeli history, often from Israelis, that he said he wasn't taught in Hebrew school. 
Along with trips to Israel, Feldman has also traveled to the West Bank, where he found the people to be "the nicest people I've ever met anywhere."
"I don't think of it as complex," he said of his relationship with Israel. "I think of it like I think of most things, pretty black and white. I was taught Jewish moral values in the Hebrew school that my grandfather helped to found and that my father was president of. I collected dimes as a kid and planted trees in places in Israel. And later in life, I learned that those trees were being planted over the remains of Palestinian villages that we had destroyed."
While Feldman's fee was $500, Act 710 only applies to contracts valued at $1,000 or over. But Feldman said he was told he could not be added to the vendor list, despite not meeting that threshold, because of the possibility he could in the future receive more contracts that would put him over. 
While Feldman said he is speaking to a lawyer to see about possible legal recourse, he said he hopes his experience with the anti-BDS law "brings greater awareness to folks, on the restrictions on Americans' right to speak out peacefully, in support of peace, justice and equality for all people in the Holy Land, Jewish and non-Jewish people are like."
The post Jewish doctor stiffed for $500 after refusing pledge to oppose BDS appeared first on The Forward.