Inspired by true events, the six-part Swiss series, Labyrinth of Peace, offers a high-end dramatization of the little-known tensions, corruption and intrigue that unfolded in neutral Switzerland throughout World War II and most pointedly in its immediate aftermath. 
The action unfolds in 1945 and centers on a family of Swiss industrial magnates. The domestic drama that evolves into a thriller is seamlessly interwoven with broader political and moral themes that explore Switzerland's complicity in Nazi crimes: helping to bring war criminals into and out of the country; laundering illegally obtained money; receiving and concealing properties confiscated from German Jews; and its less-than-sterling treatment of Jewish Holocaust survivors. 
Our protagonists include the affluent and innocent Klara (Annina Walt), her less well-heeled, ambitious husband, Johann (Max Hubacher), and his idealistic brother Egon (Dimitri Stapfer) who has returned from war. Klara cares for young displaced Holocaust survivors at a Red Cross refugee center, while Johann, who works for Klara's industrialist father, hopes to save and modernize his father-in-law's economically challenged textile company. Egon, now employed in the Attorney General's office, is charged with hunting down escaped Nazis.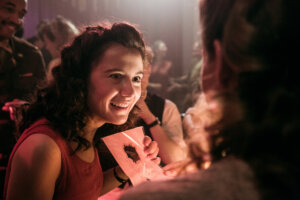 Annina Walt plays Klara Tobler in the Swiss series Labyrinth of Peace. Photo by SRF/Sava Hlavacek
All three find themselves caught in a system that turns a blind eye toward Nazi criminals. The film presents a Switzerland that raked it in during the war years thanks to its dealings with Germany, lacking any major moral compunctions. The end of the war spelled financial ruin for Switzerland.
Labyrinth creator Petra Volpe set out to debunk the widely held myth of Swiss neutrality. She has said she immersed herself in everything from personal memoirs to the Swiss government's international Commission of Independent Experts on financial relations with the Nazis, released in 2002. 
As for the fictional characters and situations, she said that they are also based on real people who faced a web of complex moral dilemmas regarding how to balance concerns for justice with the need to survive economically. 
Though the miniseries, directed by Mike Schaerer, strains credibility at times, for the most part it is compelling and seemingly authentic. It's especially successful in its recreation of the postwar Swiss upper classes — including their well-appointed homes, possessions, wardrobes and automobiles, and even their hairstyles. Compare Klara's shiny flowing locks with her working-class mother-in-law's tied-back utilitarian bun.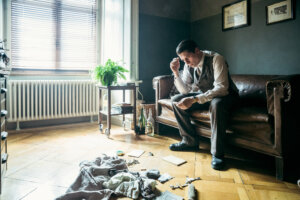 Dimitri Stapfer as Egon Leutenegger in Labyrinth of Peace. Photo by SRF/Sava Hlavacek
The cinematography is striking with its brightly lit, sharply delineated colors in both interior and exterior scenes, all of which evoke a glossy magazine spread, ironically underscoring the darkness lurking below the surface.
Moral ambiguity is pervasive, and it's handled with subtlety and aplomb. Johann, for example, borrows money from Nazis and is housing a Nazi chemist who he has hired to forge a nylon-like material at low cost. It's ambiguous as to what he knows, chooses to know, not know, or really doesn't know. 
And even if he suspects who he's dealing with, it's not hard to sympathize with his need to make good, help his country, his workers and his family, and, yes, his compulsion to gain favor in his father-in-law's eyes. He is a flawed but empathetic character and in his own right a sensitive soul. 
The less refined figures here, specifically the working stiffs who simply need a job to put food on the table, are understandable too. Not everyone, the show's creators seem to suggest, can afford to make sacrifices for the greater good.
For her part, Klara can always return to her family and her former life that she questions, and at moments abhors. That's not to dispute her compassionate nature. Her encounter with the Jewish Holocaust refugees serves as a moral awakening.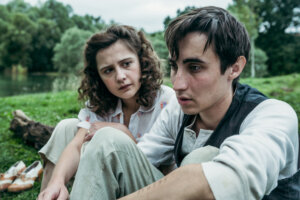 Annina Walt and Jan Hrynkiewicz , who plays Herschel, share a conflicted and contemplative moment in Labyrinth of Peace. Photo by SRF/Sava Hlavacek
Tending to young men whose families were totally wiped out is shocking to her. So too is their hunger. Galvanized on their behalf, she sets out to make life as palatable as possible for them.
Still, her affair with Herschel, a Holocaust survivor (Jan Hrynkiewicz), is open to interpretation. We have reason to believe that she loves her husband Johann and is committed to him. Her relationship with Hershcel exists in a grayer area, straddling the lines between love and pity, lust and rebellion. The ultimate outlier, he becomes Klara's weapon of choice against her family. In large measure her extramarital romance is play acting coupled, paradoxically enough, with free-floating, not fully defined feelings of guilt.
The film's heroes are Egon and his Jewish American girlfriend, Dorothy Rosenberg (Lou Strenger), a free-spirited journalist Nazi hunter. The villains are the open and, perhaps more frighteningly, closeted Nazis who lived comfortable, unfettered lives throughout Switzerland. The worst is Klara's icy, emotionally withholding mother (Sylvia Rohrer), a Nazi sympathizer reveling in an extramarital affair with a Nazi while her husband is recovering from a stroke in a distant spa. 
The acting is superior, the pacing swift, and within their narrative parameters the creators expose an unforgiving brutality and turn the myth of Swiss neutrality on its head. My one quibble is the final scene that ends on a contemporary feminist note. The implied optimism doesn't quite ring true. 
The post In a gripping new thriller series, neutral Switzerland isn't so neutral after all appeared first on The Forward.