I saw the unmissable hot pink sign from two blocks away.
A crowd of people stood before me. There were fans eager to celebrate the fifth and final season of The Marvelous Mrs. Maisel advertised by that enormous pink sign. And there were angry New Yorkers, trying to weave their way up Fifth Avenue, annoyed by the unexpected obstruction.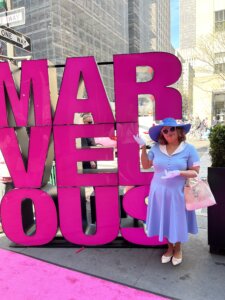 Lily Mercado poses with the unmissable sign. Photo by Rebecca Salzhauer
As part of Amazon Prime's "Maisel Tov" campaign to launch the final season of The Marvelous Mrs. Maisel, the streamer transformed 10 blocks of Fifth Avenue into the bizarre yet highly photogenic "Marvelous Mile," a jaunt through a recreated version of the show's technicolor New York fantasy. Thanks to a sponsorship by Manischewitz — proving perennial relevance the day after Passover ended — fans and startled Manhattanites alike could enjoy free, individually wrapped pink and white cookies, a Maisel-inspired twist on the classic black and white.
As the carpet stretched up Fifth Avenue, street corners were dotted with cookie kiosks painted to resemble old beach cabanas. Every few blocks, I came upon a recreated mini-set to commemorate one of the show's seasons. Fans walking north could take the microphone at the Gaslight Club, where Midge Maisel made her unplanned comedy debut in season one; row in a Catskills canoe and lounge poolside on a Florida beach chair; then cross the street to mime getting ready before a set in a comedy club dressing room.
Walking the carpet on a ludicrously warm spring Friday, I felt as if I'd entered a parallel universe where Epcot had a tiny offshoot in midtown Manhattan.
While Ashley Rose Nicholas, an actor working one of the cookie kiosks in period costume, does not watch Mrs. Maisel, she's "a fan of the aesthetic," she said. As wanderers along the route have approached her kiosk, she added, some have seemed deeply confused by the mid-century wonderland they've wandered into, and many have been excited about the show.
Others, she said, just stop by for the merchandise. "A lot of people are like, 'Oh, it's free. I want what's free.'"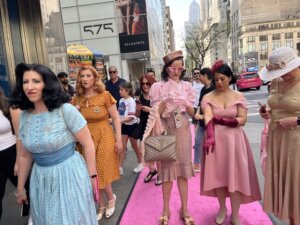 Fans of the show came dressed in Maisel-inspired vintage fashion. Photo by Rebecca Salzhauer
Since The Marvelous Mrs. Maisel is about the closest television gets to window shopping, it was only fitting that the window at Saks Fifth Avenue joined in the fun by showing off Midge's most memorable costumes. The display provided a more intimate opportunity to gaze longingly at the little black dress Midge wore in her triumphant performance at the end of the first season, a yellow floral frock she donned in the Catskills, and many monochromatic suits complete with matching pumps and pillbox hats. Anyone looking to steal Susie's style had to go to the end of the lineup, where a leather jacket, jeans and a newsboy cap hovered next to Midge's bathrobe.
A security detail stood guard at the entrance of the building, costumed in suits and hot pink ties. Ostensibly, they were there to clear a path to the doors. Still, at moments it looked more like they were there primarily to defend the clothes from any rabid Maisel-heads looking to shatter the glass and free the outfits.
Deborah Fischer, a retired public school teacher, walked the pink carpet in a vintage turquoise sheath dress, kitten heels, white evening gloves, cat-eye sunglasses and a blue hydrangea hat complete with its own hatbox.
"I wanted to be contrasting to pink, so across the color wheel is the turquoise, of course," she said, adopting a mid-Atlantic lilt.
Fischer perched outside the department store, posing for pictures and calling out to passersby, "It's a beautiful day for shopping!" When I asked if this was how she typically dressed, she said no. "This is what I do for fun. I meet up with fellow enthusiasts on the avenue," she said. "Everyone is upbeat. It's all about living your best life."
Lily Mercado, who came in a Maisel-inspired full-skirted dress, found out about the pop-up in a Facebook group for fans of the show. Some members outside of New York had posted about it, saying that they wished they could go. "I said, 'You know what, I'm going to do it. I'm going to represent them,'" Mercado said. She even filled her purse with those pink and white cookies to mail out to her friends.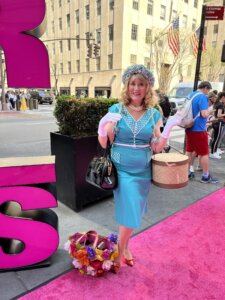 Deborah Fischer chose her turquoise dress to contrast the pink carpet. Photo by Rebecca Salzhauer
A few minutes before 11 a.m., it became clear that something was going to happen outside of the department store. A sock hop tune blared through some medium-quality outdoor speakers, and dancers in period costume sashayed out. They shimmied, monkeyed and mashed potato-ed their way through a few minutes of turbocharged choreography as denizens of the pink carpet recorded snippets of the dance on their phones.
Afterward, I meandered through the department store, wondering if there was anything Maisel-esque inside, but alas, Midge would not approve of the leather pants and oversized blazers on display. When I exited on a side street, I came upon the Marvelous Mile's spin on that little couch outside the fitting room for when your dad gets grumpy while shopping: three vintage cars.
The carpet continued uptown, past St. Patrick's Cathedral, its doorway elaborately adorned with an arch of pink roses. No, this was not an official site on our jaunt through Midge's New York — Joel's parents would plotz. But like their well-dressed heroine, the fans know impeccable color coordination when they see it, so the church's Easter display became the aesthetically pleasing backdrop to many very Instagrammable pink carpet photos.
When I reached the end of the carpet, I ducked into a bookstore to sample my special edition pink and white. The icing had gotten sticky against the plastic wrapping, a side-effect of storing it in my pocket in 80-degree heat. I tore open the package and took a bite of what I can only describe as one of the driest cookies I have ever tasted. I washed it down and went to toss my limited-edition Manischewitz #MaiselTov wrapper in the trash.
Ah, well. At least it looked good in pictures.
The post At a Manhattan 'Mrs. Maisel' takeover, megafans and mealy cookies appeared first on The Forward.