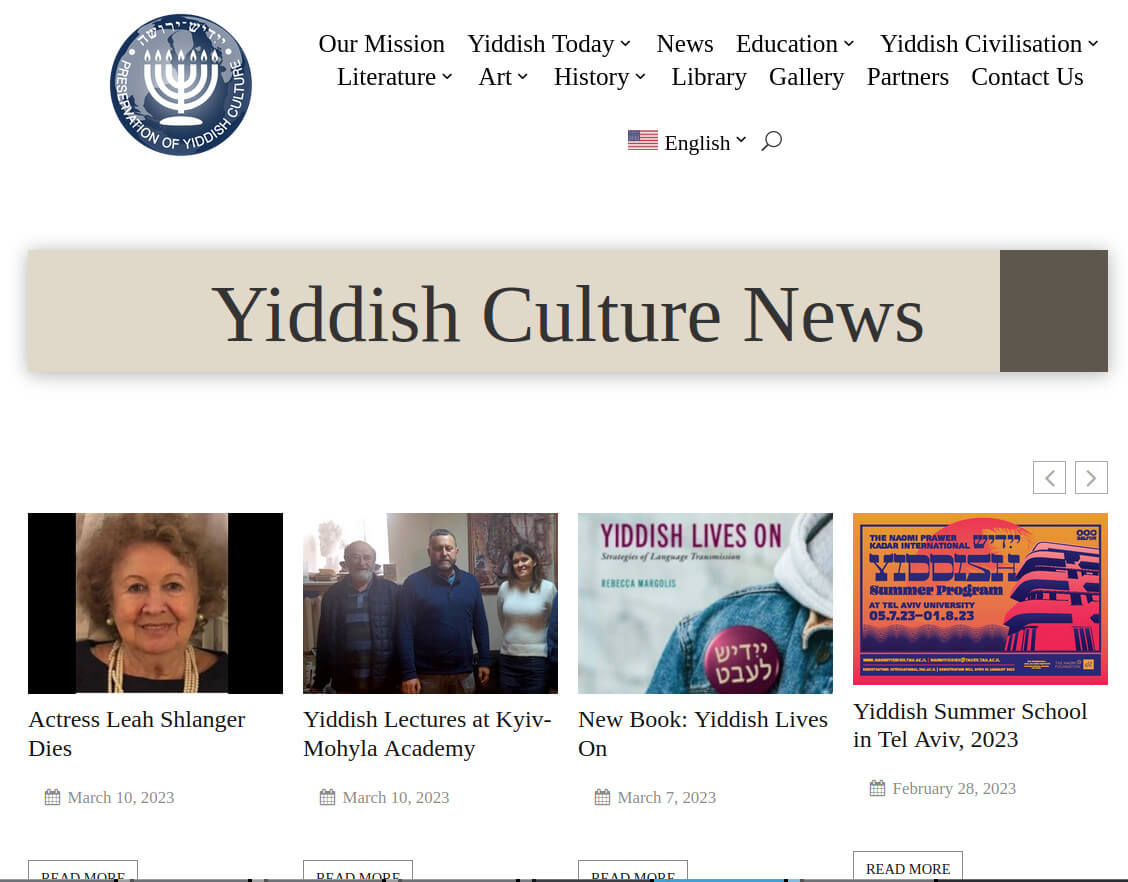 גלײַך פֿאַרן ערשטן טאָג חג־הפּסח האָבן זיך אין די ייִדישיסטישע פֿייסבוק־גרופּעס באַוויזן אַנאָנסן וועגן אַ נײַער וועבזײַט, געווידמעט ייִדיש.
אַ קורצער אַרטיקל אויף ייִדיש וועגן דער וועבזײַט, Yiddish-Culture.com, איז אויך דערשינען דעם 5טן אַפּריל אין "ביראָבידזשאַנער שטערן". דער מחבר, יואל מאַטוועיעוו, דערקלערט דאָרט, אַז דער שאַפֿער פֿונעם פּראָיעקט הייסט ד״ר מאַרק זילבערקוויט, און אַז איין חידוש פֿון דער וועבזײַט איז איר פֿילשפּראַכיקייט: ווען מעגלעך, ווערן אַלע מאַטעריאַלן פּובליקירט איינצײַטיק אויף ייִדיש, ענגליש, רוסיש און העברעיִש.
מאַטוועיעוו, אַ געוועזענער מיטאַרבעטער פֿונעם פֿאָרווערטס, וואָס האָט אַ קאָמפּיוטערײַ־בילדונג און האָט פֿון 2006 ביז 2013 געטראָגן דאָס אַחריות פֿאַר דער וועבזײַט פֿון דער צײַטונג, פֿאַרנעמט זיך מיטן טעכנישן חלק פֿונעם פּראָיעקט. ער איז אויך איינער פֿון די רעדאַקטאָרן. דער שעף־רעדאַקטאָר איז וועלוול טשערנין – אַ באַקאַנטער ייִדישער דיכטער און שרײַבער. מאַרק זילבערקוויט, וועלכער איז אין די 1980ער יאָרן אַוועקגעפֿאָרן פֿון מאָסקווע אין די פֿאַראייניקטע שטאַטן, איז דער מחבר און פֿאַרלעגער פֿון עטלעכע ביכער אויף ענגליש און רוסיש וועגן מוזיק. זײַן טאָכטער, די ניו־יאָרקער פּיאַניסטקע דזשוליאַ זילבערקוויט, איז די אויספֿיר־דירעקטאָרין פֿונעם פּראָיעקט.
אויף דער וועבזײַט שטייט געשריבן, אַז זי ווערט געשטיצט דורך צוויי חסד־פֿונדאַציעס, וואָס זילבערקוויט האָט געגרינדעט אין אַמעריקע און ישׂראל. זייערע עיקר־צוועקן זענען ייִדיש־פֿאָרשונגען, פּראַקטישע שפּראַך־בילדונג און פֿאַרשיידענע מינים טעטיקייט, וואָס קאָנען צוציִען דעם יונגן דור צו ייִדיש. עס ווערט באַטאָנט, אַז דער פּראָיעקט איז אַן אינטערנאַציאָנאַלער, געשאַפֿן דורך אײַנוווינער פֿון עטלעכע לענדער, וואָס האָפֿן צו פֿאַראינטערעסירן אי דעם ענגליש־רעדנדיקן, אי דעם רוסיש־שפּראַכיקן, אי דעם ישׂראלדיקן עולם.
אַן אַנדער חידוש איז אַז עס גייט די רייד נישט נאָר וועגן דעם לשון גופֿא, נאָר אויך וועגן דער ייִדיש־קולטור אינעם ברייטן זינען – פֿאַרשיידענע אַספּעקטן פֿון דער אַשכּנזישער קולטור אין אַלגעמיין, וואָס האָבן אַ שײַכות צו דער שפּראַך: למשל, די קונסטווערק פֿון מאַרק שאַגאַל. דער גרויסער מאָלער האָט אויך אָנגעשריבן אַ ממשותדיקע צאָל לידער און קריטישע עסייען אויף ייִדיש. אַנשטאָט דעם געוויינטלעכן אויסדרוק "ייִדישע קולטור" פֿיגורירט אויף דער וועבזײַט "ייִדיש־קולטור", כּדי אונטערצושטרײַכן, אַז דער פּראָיעקט איז געווידמעט דווקא ייִדיש און ייִדיש־טעטיקייט אַרום דער וועלט, אין וועלכער עס זענען הײַנט באַטייליקט נישט נאָר ייִדן.
אַ סך, אָבער ניט אַלע אַרטיקלען אויף דער וועבזײַט זענען טאַקע פּובליקירט געוואָרן אויף פֿיר שפּראַכן. למשל, דער פֿיר־שפּראַכיקער נײַעס־אָפּטייל באַשטייט פֿון קורצע אַנאָנסן וועגן ייִדיש־קולטור אַרום דער וועלט, אָנהייבנדיק פֿון 2022. ווי מאַטוועיעוו איז מסביר אין "ביראָבידזשאַנער שטערן", האָט מען אָנגעהויבן אַרבעטן איבערן פּראָיעקט מיט איבער אַ האַלב יאָר צוריק, נאָר ערשט איצט באַשלאָסן אים מפֿרסם צו זײַן.
אין איינעם פֿון די לעצטע נײַעס־אַרטיקלען אויף דער וועבזײַט, פֿונעם 24סטן מאַרץ, ווערן אַנאָנסירט פּראַקטישע רעזולטאַטן פֿון פֿאָרשונגען און טעכנישער אַרבעט: מאַטעריאַלן וועגן דעם וועלט־באַרימטן קאָמפּאָזיטאָר דמיטרי שאָסטאַקאָוויטש (1906 – 1975) און זײַן שײַכות צו ייִדיש. הגם ער איז אַליין נישט געווען קיין ייִד, האָט ער ליב געהאַט די ייִדישע פֿאָלקמוזיק אין אין 1948 געשאַפֿן אַ ציקל מוזיקאַלישע קאָמפּאָזיציעס אויפֿן סמך פֿון יחזקאל דאָברושינס און אַבֿרהם יודיצקיס טעקסט־זאַמלונג "ייִדישע פֿאָלקס־לידער", וואָס איז דערשינען אין 1940.
דער קאָמפּאָזיטאָר האָט זיך אַ ביסל באַקענט מיט ייִדיש, נאָר זיך באַנוצט מיט דער רוסישער איבערזעצונג, וווּ דער פּאָעטישער מעטער שטימט נישט אַלעמאָל מיטן אָריגינאַל. דער ישׂראלדיקער מוזיקאָלאָג יאָאַכים בראַון האָט אין 1989 אַרויסגעגעבן אַ בוך מיט אַ נײַעם וואַריאַנט פֿון די אָריגינעלע ייִדישע לידער, בהסכּם מיט שאָסטאַקאָוויטשעס מוזיק. שפּעטער, אינעם יאָר 2000, האָבן דרײַ זינגער, יעוואַ בן־צבי, ניקאָלײַ קורפּע און יעלענאַ גובינאַ זיי געזונגען אויף ייִדיש. דער סך־הכּל פֿון אָט די מאַטעריאַלן, אַרײַנגערעכנט דעם אָריגינעלן ייִדישן טעקסט און אַ מוזיקאַלישער ווידעאָ פֿון שאָסטאַקאָוויטשעס ווערק אויף ייִדיש, ווערן פּרעזענטירט אויף דער נײַער וועבזײַט.
אַן אַנדער זאַך, וואָס האָט אויך צו טאָן מיט מוזיק, זענען מאַטעריאַלן פֿון משה בערעגאָווסקיס אַרכיוו, אַרײַנגערעכנט אַ צאָל אַלטע סאָוועטישע אויסגאַבעס פֿון זײַנע לידער־זאַמלונגען, וואָס מע האָט ספּעציעל סקאַנירט פֿאַרן פּראָיעקט.
וואָס שייך בילדונג, איז אויף דער וועבזײַט צונויפֿגעשטעלט אַ קליינע עלעקטראָנישע פּאָליצע פֿון לערן־מאַטעריאַלן און אַ ליסטע פֿון אינסטאַנצן אַרום דער וועלט, וווּ מע לערנט ייִדיש. עס ווערט דערקלערט, אַז ייִדיש איז נישט עפּעס אַן "עקזאָטישקייט", נאָר אַ נאָרמאַלע לעבעדיקע שפּראַך מיט אייגענע שרײַבער, דיכטער און טויזנטער טאָג־טעגלעכע רעדער.
ווען מע קלײַבט אויס דאָס לשון אויף דער וועבזײַט, באַווײַזן זיך דאָרט קליינע פֿאָנען פֿון לענדער. ייִדיש און ייִדישלאַנד ווערט רעפּרעזענטירט דורך אַ שוואַרצער מנורה. עטלעכע אַלגעמיינע אַרײַנפֿיר־אַרטיקלען זענען דאָרט געווידמעט דער טעמע פֿונעם הײַנטיקן ייִדישלאַנד – סײַ וואָס שייך די חסידישע געגנטן, סײַ דעם ווירטועלן אינטערנאַציאָנאַלן רוים פֿון ייִדיש־טוער.
The post New website dedicated to the Yiddish language and culture appeared first on The Forward.