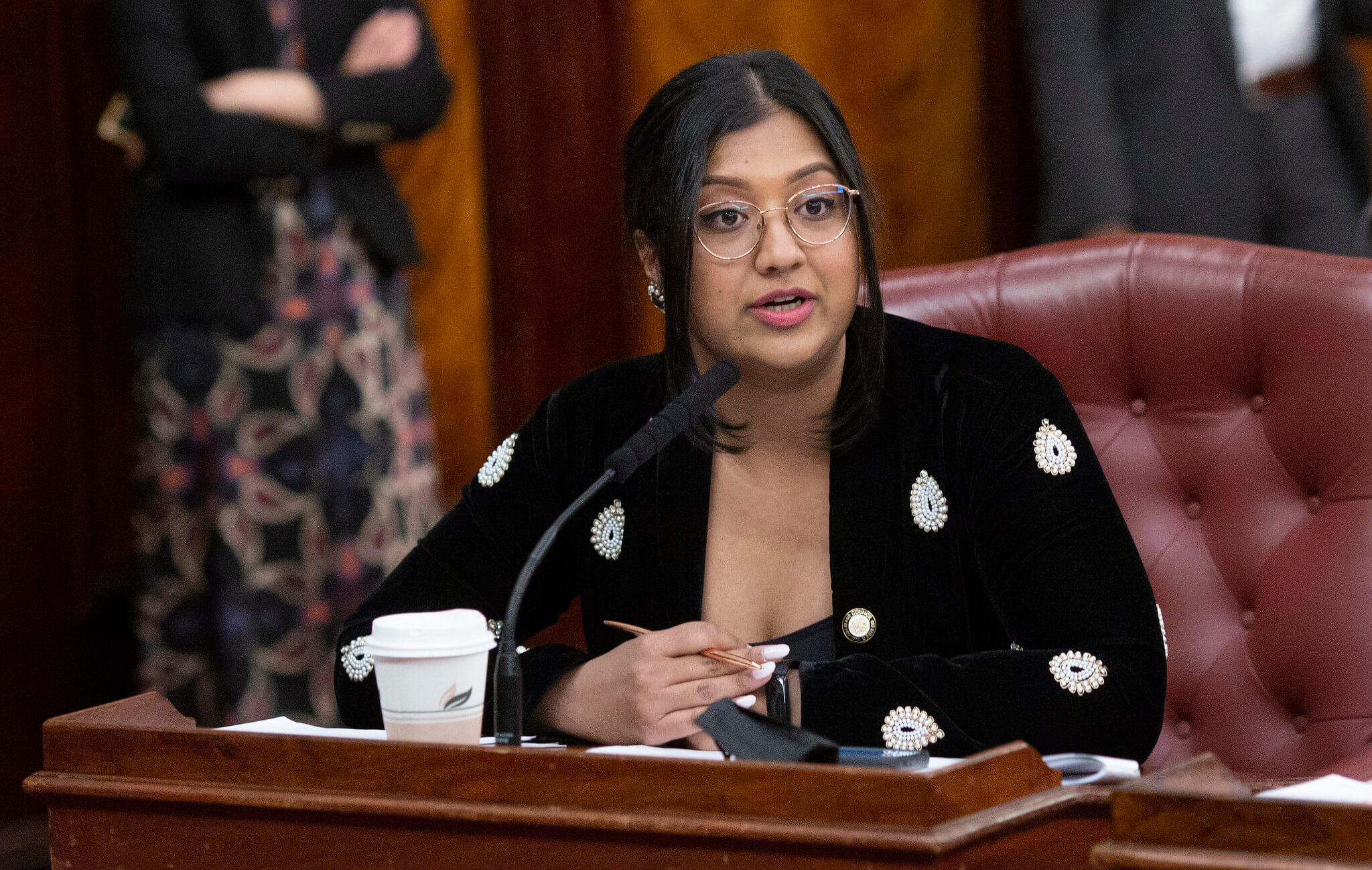 Supporters of a bipartisan New York City Council resolution that would recognize April 29 annually as "End Jew Hatred Day" expressed shock Thursday that six council members did not support the resolution.
Two on the 51-member council voted against it, including one member who called her critics "extremely rude and disrespectful" for questioning her commitment to combating antisemitism. She said the resolution was associated with right-wing groups she could not support. A council member who abstained accused Jewish community leaders of failing to call out hatred against Palestinians and supporting apartheid in Israel. 
He was among four members who abstained from the vote
 "Your antisemitism is showing," Inna Vernikov, the Brooklyn Republican who introduced the measure, told the six who did not support it. 
She explained the bill as a response to the Anti-Defamation League's recently released annual report, which showed a 52% increase in antisemitic incidents across the city last year compared to 2021. The audit counted 395 reported incidents of antisemitic vandalism, harassment or assault in New York City, including 66 reports of physical violence, 52 of them in heavily Orthodox-populated Brooklyn neighborhoods. 
"In this city, how could anyone deny that antisemitism has become a real problem?" said Kalman Yeger, a Jewish Democrat who represents the Orthodox neighborhoods of Borough Park and Midwood. "How is that possible that people are elected to this body from neighborhoods all across the city of New York and don't have a grasp of what's happening in this city; that hatred is real and it's there?" 
Eric Dinowitz, chair of the New York City Jewish Caucus, and Ari Kagan, a longtime Russian-American leader who represents the Russian community in Brighton Beach and recently switched party affiliation to become a Republican, also registered outrage after the vote.
"There is no other people, or other people in New York City, who are facing this steep rise," Dinowitz said of the increase in incidents targeting Jews. "I am upset to hear that my colleagues cannot stand with the Jewish community as we do stand with other communities." 
Shahana Hanif, a Bangladeshi-American freshman on the council who voted against the measure, rejected the criticism.
"I think it is extremely disrespectful to be called antisemitic on the floor based off of just one action when I continue to show up for our Jewish colleagues and communities," said Hanif, who succeeded City Comptroller Brad Lander in the 39th District, which includes the Park Slope and Borough park neighborhoods of Brooklyn.
She said she had not planned to explain her vote, but felt compelled to after listening to her colleagues lash out at those who did not support the resolution.
Hanif, who is Muslim, said she refused to support an initiative spearheaded by "right-wing organizations" and supported by Brooke Goldstein, an activist and head of the Lawfare Project who has claimed that Palestinians don't exist. "They have not stood up for Muslims. They have not stood up for trans New Yorkers or anybody," she said. "And I've not seen my colleagues step up those who introduced this legislation to support our trans siblings." 
Hanif said she would be open to discussing the fight against antisemitism "on a broader aspect as opposed to a simple gesture." 
Charles Barron, a longtime member of the Council who has associated with antisemitic hate groups and has been condemned for his anti-Israel views, said he chose to abstain because of the "inconsistency" demonstrated by the Jewish community's leadership in speaking out against hatred.
They do not speak out against "hatred of the Palestinian people, like the State of Israel murdering Palestinian women and children and stealing the land of people in Palestine," he said. He added that "leaders in the Jewish community even supported apartheid and racist South Africa and said nothing about African people dying." 
Vernikov told the Forward it was "sickening" to listen to the remarks of those who opposed the resolution, noting that she referenced the atrocities of the Holocaust in her introduction of the measure.
The other 'no' vote was Sandra Nurse, a Panamanian-born progressive, who represents Bushwick in northern Brooklyn. The other three members who abstained were Alexa Aviles, a member of the Democratic Socialists of America who also represents parts of Borough Park; Rita Joseph, who represents a sizable Jewish population in Kensington and Flatbush; and Jen Guitierrez, a Democrat from Brooklyn who declined to take a stance on the Boycott, Divestment and Sanctions movement in a Forward/New York Jewish Agenda survey in 2021.
The post 6 on NYC Council refuse to vote for 'End Jew Hatred Day' appeared first on The Forward.