For most of the 2.3 million Palestinians in the Gaza Strip, the Rafah border crossing represents their only potential exit, and the territory's sole remaining lifeline to the outside world. Egypt controls the crossing under a 2007 agreement with Israel, but supplies coming into Gaza through Rafah require Israeli approval.
At the opposite end of the strip, the Erez crossing in the north leads to an area close to the Israeli town of Ashkelon. There, only a limited number of Palestinians who have hard-to-obtain work permits and those with permission to receive urgent medical care were able to use the tightly controlled crossing into Israeli territory before its destruction during Hamas's incursion. The Keren Shalom crossing, also in the south of Gaza, was designed to allow only goods to enter, but was curtailed by a 16-year Israeli blockade of the strip.
Rafah is where most Palestinians attempt to acquire permission to exit Gaza if they are able. Most people born in the territory, however, have never left the 365 square kilometres that make up the territory and getting permission to leave is extremely difficult.
The crossing lies at the southern end of Gaza on the border with Egypt's Sinai peninsula, a broad triangular region made up mainly of desert that has been the site of fighting between the Egyptian military and jihadist militants over the past decade. On the Egyptian side of the crossing is Rafah, an area of city and farmland essentially razed by the Egyptian military in order to prevent civilians and militants returning to the area.
Why has Egypt closed the crossing?
Egypt tightly restricts the opening of the Rafah crossing, and has kept it shut during previous Israeli bombardments of Gaza in 2021, 2014, and 2008. Since a period of heightened conflict between the Egyptian military and jihadists in the Sinai peninsula began in 2013, Egypt has vastly curtailed movement through the crossing, and banned the entry of aid organisations and journalists into northern Sinai. Palestinians accuse Egypt of bolstering Israel's 16-year blockade by essentially closing their one exit route out of Gaza.
Egyptian officials have so far been unwilling to open the crossing for any movement of people during the latest Israeli assault unless Israel allows aid to enter the strip. The US secretary of state, Anthony Blinken, on Sunday said it would reopen to allow aid in and the evacuation of some foreign passport holders.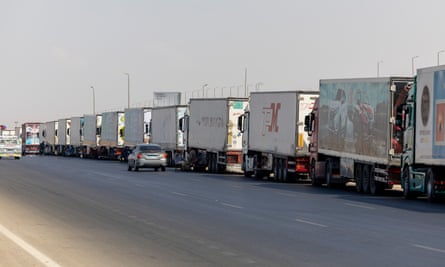 A convoy of aid trucks on the Egyptian side of the crossing. Photograph: Mahmoud Khaled/Getty Images
Video earlier this week showed aid trucks arriving in the area close to the Rafah crossing before bombardments of the area.
What is Egypt afraid of?
Egyptian officials, including the country's president, Abdel-Fatah al-Sisi, have indicated they are unwilling to allow Palestinians to flee into northern Sinai, fearing it could amount to a permanent resettlement of more than 2 million people whom Israel will not allow to re-enter Gaza.
Sisi alluded to concerns about the consequences of an exodus of Palestinians from Gaza last week, saying that allowing them to settle in the Sinai, even temporarily, would be tantamount to allowing Israel to control an emptied Gaza Strip. "Egypt will not allow the liquidation of the Palestinian question at the expense of other parties," he said. "There will be no lenience or squandering of Egypt's national security under any circumstances."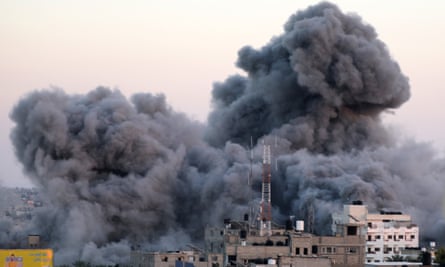 Plumes of smoke rise above Rafah after an Israeli airstrike on Sunday. Photograph: Ismael Mohamad/UPI/Shutterstock
Others share Sisi's fears, including Hamas's political leader, Ismail Haniyeh, who said last weekend that "there will be no migration from Gaza to Egypt", after Israeli demands that about 1.1 million people flee to the south of the strip, and statements from the Israeli military that Palestinians should simply leave Gaza, despite being unable to. Egypt "welcomes the Palestinian people, but not on the basis of migration or an exodus", he said.
Fears that Israel or international partners could pressure Egypt into accepting millions of Palestinians settling in the Sinai have abounded for decades in Cairo: Hosni Mubarak strenuously denied reports in 2017 that he had cut a deal with Margaret Thatcher in 1983 to resettle Palestinians exiled in Lebanon in the peninsula, adding that the Israeli prime minister, Benjamin Netanyahu, had also proposed the idea in 2010. Several Israeli politicians have proposed the creation of an alternative Palestinian state in the Sinai, an idea Egyptian officials have long rejected.
Could Cairo be convinced to allow Palestinians to cross?
Life in northern Sinai has been desperate for decades, and the region has long complained of being neglected by Cairo amid a shortage of basic infrastructure, energy and even habitable land. There is a vast area close to the border with Gaza that was destroyed, including houses and farmland, in order to create what Egypt described as a "buffer zone", and the military, which controls the area, has prevented civilians from returning to their homes.
Egypt is also in the throes of a major economic crisis, including the devaluation of its currency, making the prospect of accepting refugees a challenging one. Egypt's last remaining independent news outlet, Mada Masr, reported however that while Cairo had rejected any suggestion of a mass displacement from Gaza into the Sinai, it was still "coming under pressure from western countries who are also offering economic incentives in an effort to come to a deal".
Egypt is on the verge of accepting an agreement that would allow foreign and dual nationals to cross from Rafah, it said, as long as humanitarian aid was allowed to enter Gaza. According to six sources who spoke to Mada Masr, there is some "inclination to accept" a large influx of Palestinians into the Sinai within decision-making circles in Egypt if international partners provide economic incentives. Still, the prospect of long-term financial support for Palestinians in Egypt, whether from Cairo or internationally, appears vanishingly remote.