The stunningly successful surprise attack launched by Hamas from the Gaza Strip into southern Israel at the weekend has opened a dark new chapter in the years-long war between the Islamist militant group and its Israeli enemies.
Amid swirling speculation of foreign involvement, the infiltration attack—being referred to by some observers as "Israel's 9/11″—may yet precipitate seismic shifts in Israel's foreign affairs.
Hamas justified "Operation Al-Aqsa Flood" as a response to Israel's recent police actions in the Al-Aqsa Mosque compound in Jerusalem and to violence by Israeli settlers illegally occupying parts of the Palestinian West Bank.
The operation is believed to have killed at least 700 Israelis, wounded more than 2,100, and resulted in dozens of captives being taken back into the Gaza Strip. Israel's response is underway, with airstrikes in Gaza killing at least 413 people, according to the Palestinian Health Ministry.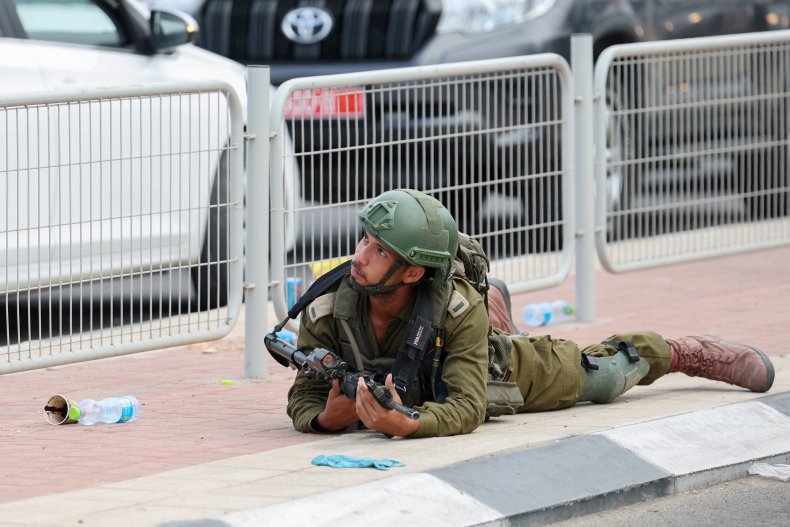 An Israeli soldier ducks for cover near Sderot on October 9, 2023, during a rocket attack from the Gaza Strip. Israeli forces are responding to Hamas' surprise weekend attack from the Gaza Strip, which has killed hundreds of Israelis.
JACK GUEZ/AFP via Getty Images
Israelis are now considering how the country was caught so catastrophically off guard as speculation mounts of foreign backing for the raid.
Hamas has long been funded, armed and trained by Iran, as one of the Islamist militant organizations—alongside Islamic Jihad also in Gaza, Lebanese Hezbollah, the Houthis in Yemen, and a litany of Shia paramilitary formations in Iraq—leveraged by Tehran in its strategic confrontation with Israel and its Western backers.
The weekend attack appears to have thwarted—or at least delayed—the planned normalization deal between Israel and Saudi Arabia; a key strategic goal for Tehran.
Initial reports—and a statement from Hamas—suggest that Iran had a hand in the landmark assault, which is thought to have been prepared over several weeks. Secretary of State Antony Blinken, though, said on Sunday he has "not yet seen evidence that Iran directed or was behind this particular attack, but there is certainly a long relationship." Iran's mission to the United Nations has denied any involvement.
There has also been speculation on social media of Russian involvement in the Hamas operation, though there is no evidence indicating Moscow's alleged role. Newsweek has contacted the Russian foreign ministry by email to request comment.
The Institute for the Study of War has suggested that Russia might benefit from the shift in international attention away from its atrocities in Ukraine and towards the deteriorating situation in Israel and the Palestinian territories. Israel is expected to launch a fresh and bloody ground assault into Gaza in the coming days, while tensions remain high in the occupied West Bank and along the border with Lebanon, where Hezbollah enjoys de facto control.
Regardless, there is no evidence of direct Russian involvement in the weekend attack. Hamas has controlled the Gaza Strip since 2007 and has a long history of infiltration operations into Israeli territory. The militants appear to have used their traditional mixture of indigenous and Iranian weapons for the assault.
Some pro-Ukrainian accounts on X, formerly known as Twitter, claimed without evidence that the Wagner Group mercenary organization may have trained the Hamas units that launched the attack. Wagner has no known presence in the Palestinian territories, while Hamas' assault units are highly experienced and trained with the assistance of outside powers like Iran.
Others incorrectly suggested that only Russia could have instructed Hamas in its use of drone bombers to target Israeli armor and observation posts. Hamas was at the forefront of the adoption of commercial and military drones, and has regularly used them to attack Israeli military, civilian and infrastructure targets in Israel and the Gaza Strip.
Oleg Ignatov, the Crisis Group think tank's senior Russia analyst, told Newsweek: "I haven't seen any evidence; I haven't seen it in public, I haven't heard anything about this from my conversations. It's difficult to imagine that Russia participated in the planning of this attack.
"Of course, we live in a world where we can't exclude anything. But I haven't seen any evidence."
Russia has long maintained a close working relationship with Iran and its network of partner militant organizations—especially Hezbollah in Lebanon—across the Middle East, seeing them as an alternative power base capable of challenging regional American and allied interests. Moscow has drawn closer to Iran since the Kremlin launched its full-scale invasion of Ukraine in February 2022.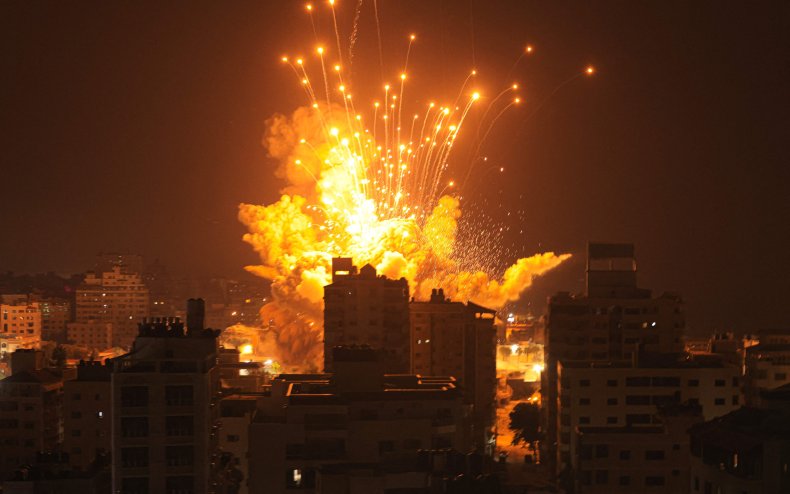 A missile explodes in Gaza City during an Israeli air strike on October 8, 2023. Israeli forces are bombarding the Gaza Strip in response to Hamas' weekend infiltration attack.
MAHMUD HAMS/AFP via Getty Images
The Kremlin has retained high-level contacts with Hamas. In March, the militant group sent a high-level delegation to Moscow to hold talks with Russian Foreign Minister Sergei Lavrov, who subsequently warned that Hamas' "patience" with Israel was "running out." Hamas leaders also visited Russia in May and September 2022.
Such diplomatic channels should not be confused with direct support, Ignatov said. "Russia has very good connections with Hamas, and everybody knows about this," he said. "But I think that was part of the policy in the Middle East that it was advantageous for Russia to have the ability to communicate with everyone."
In seeking to bolster its international prestige and influence, Ignatov said Moscow is more interested in involvement in peace talks rather than trying to sway the fighting. "Russia would be interested in participating in any possible negotiations," he said. "This means, of course, it would would not be interested in supporting one of the sides."
Deputy Foreign Minister Mikhail Bogdanov was among those who called for calm over the weekend. "It goes without saying that we always call for restraint," the diplomat said, as quoted by the Interfax news agency. Former President Dmitry Medvedev—known for his anti-Ukrainian and anti-Western diatribes—took the opportunity to blame the U.S. for the broader Israeli-Palestinian conflict.
But some Russian propagandists reveled in Israel's defeat. Vladimir Solovyov said the Hamas attack was a "loud slap" for Israel and its intelligence services, blaming the U.S. for failing in its role as the "guarantor of peace in the region" and claiming without evidence that Ukraine provided weapons to Hamas.
Others used the attack to hit out at Russians who fled to Israel to escape Moscow's disastrous war on Ukraine. Margarita Simonyan, the head of RT, wrote on social media: "The country that is not at war with its neighbors is again at war with its neighbors. We await the exodus of Russian pacifists. Then again, we won't hold our breath."
Sergey Mardan wrote in a post on his Telegram channel: "This mess is beneficial for Russia, because the globalist toad will be distracted from Ukraine and will get busy trying to put out the eternal Middle Eastern fire."
"Iran is our real military ally," Marden added. "Israel is an ally of the United States. Therefore, choosing a side is easy!"
But goading from state media talking heads is not the same as foreign policy, Ignatov said. "That's not the policy, it's wishful thinking," he explained.
"They think that the world works like this. If there is a war in Israel, it means that the United States will send shells and ammunition to Israel rather than to Ukraine. And that means that Russia will have an advantage."
Update 10/9/23 at 7:35 a.m. ET: This article has been updated to include comment from Oleg Ignatov.