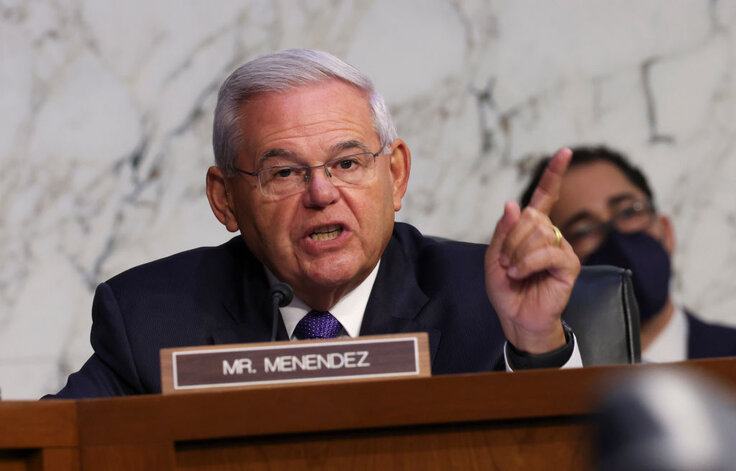 Sen. Bob Menendez (D., N.J.) and his wife are under federal investigation for allegedly taking gifts and services in exchange for political favors, the Wall Street Journal reported Friday.
Associates of Nadine Arslanian, who married Menendez in 2020, were subpoenaed by the U.S. attorney's office for the Southern District of New York. It is not clear what specific information the office is seeking.
The investigation dates back to 2019, according to the Journal:
Late that year, court records show, federal investigators executed search warrants at the home and office of Wael Hana, the founder of IS EG Halal, an Edgewater, N.J., company that was designated the only business allowed to certify halal meat being exported to Egypt.
Mr. Hana is an associate of Ms. Arslanian, according to the people familiar with the matter.
Prosecutors were investigating possible undisclosed foreign lobbying in the U.S. and other potential violations of federal law, according to court documents filed in 2020 by Lawrence Lustberg, a lawyer for Mr. Hana, who was seeking the return of property seized by the government.
Menendez was previously tried in 2017 in a public-corruption case, which ended in a mistrial. He was tried for allegedly taking $1 million in gifts—including private flights and trips—from a Florida doctor who wanted help with visas.
The post Dem Senator and Wife Under Scrutiny in Federal Corruption Investigation appeared first on Washington Free Beacon.