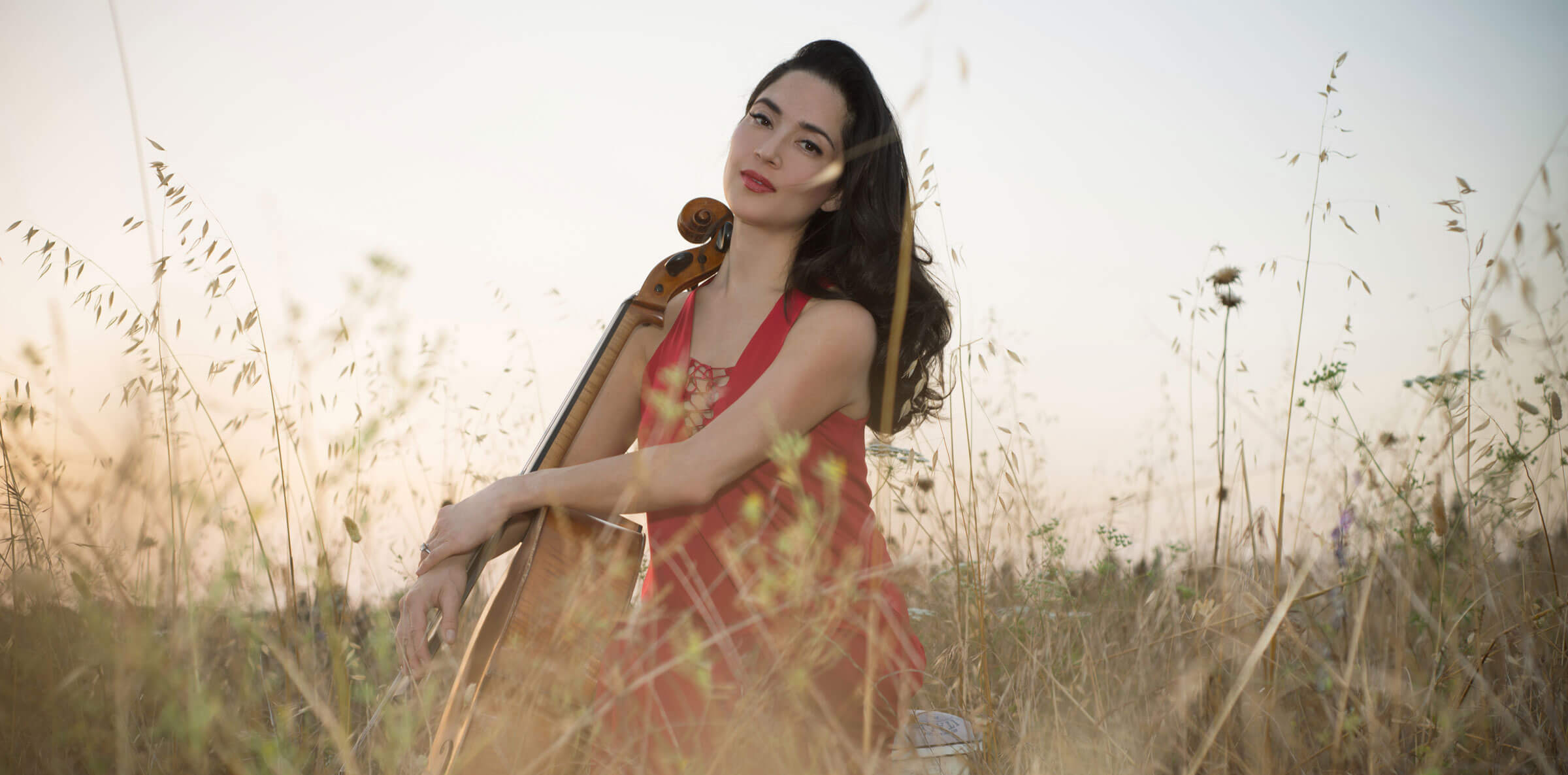 As a child, I struggled to keep track of the many steps my ancestors took between leaving Russia and Poland for America. I always knew, though, that one of my great-grandmothers escaped Lithuania through Japan because of a man named Chinue Sugihara.
Sugihara, a Japanese diplomat posted in Lithuania, wrote nearly two thousand visas to help Jews escape Europe. In 1984, Yad Vashem honored him with the title Righteous Among the Nations. And just before the pandemic hit, the virtuoso cellist Kristina Reiko Cooper conceived of a concert to honor Sugihara. She has a strong connection to Sugihara's story: Her father-in-law escaped Europe on a Sugihara visa.
A Concert For Sugihara, an evening-length performance centered on a new work commissioned by Yad VaShem, Lera Aurbach's Symphony No. 6: Vessels of Light, premiered last November in Lithuania. In breaks between rehearsals, Reiko Cooper walked through the city of Kaunas, imagining the recipients of Sugihara's visas dashing "from embassy to embassy, consulate to consulate" in hopes of finding a savior.
Now, Reiko Cooper is bringing A Concert for Sugihara, which also includes a performance of Karen Tanaka's Guardian Angel, to New York City's Carnegie Hall on April 19. This interview has been edited for length and clarity.
You and I have both had our lives shaped by Sugihara's legacy. What made you want to draw on that influence in your music?
It always astounds me, the reverberations. In the world today, there are thousands upon thousands of people who would not exist if it weren't for Sugihara.
For me, I have my husband and three children. So it's in my face. The original inspiration for wanting to pursue this so badly is that in the world today, there's so much strife and trauma and mass displacement of refugees.
To know that in 1940, amid the chaos and the evil and the noise that was going on, this man found that peaceful part of himself and was able to act upon that … right now, it's so difficult for us to access that part of ourselves that we all have, which is that we know the difference between right and wrong. It's not complicated. The ability to act upon it might be rife with difficulties, but the actual knowledge of what's right and what's wrong is so simple.
When you perform A Concert For Sugihara in New York City, where many survivors first reached America, will those people be on your mind?
In New York — the city of opportunity, the city of immigrants, the landing pad for so many refugees even today — yes, of course. That's an incredibly special thing for me to know that there probably will be quite a few people in the audience that owe their existence to, or have had their lives impacted by, the visas that Sugihara wrote.
I just performed this work in Prague. And I went to the Pinkas synagogue, and over every wall, written in tiny little script, are names of the victims who were killed in the Holocaust. I thought for sure that it was the 6 million. Turns out, it was only the ones that perished in the Czech Republic area. It's just so overwhelming. But talking about one person who made such a huge difference, you can somehow relate to that person in a way.
Is there any particular moment in Vessels of Light that creates an emotional rush for you as you perform it?
There's a very, very terrifying section of the work which is fast and loud. Really terrifying. And the chorus is singing in Yiddish about "the fire, the fire is burning, people are burning, people are dying" — it's just mad chaos.
And then it all shrinks away for a minute.
There's a solo singer who sings as a child and is asking their mother, "Mother, Mother, what's what's going on? Where are you, mommy?" I answer in kind, as a comforting voice responding to the child.
I'm not the only person to say this: The cello is the closest instrument to the human voice. There is something so very human about the cello sound.
As the mother of three children, I have to say that that spot kills me. It just kills me to know that this child most assuredly dies. All you can do is be the voice of a mother.
Have you tapped into that voice when speaking to your children about A Concert For Sugihara?
I certainly wouldn't tell them about that part of it. They'd have nightmares forever.
I'm a convert, and when I first learned about the Holocaust, I was so profoundly and horrifically affected. I'm telling you, for three years straight, I cried every single night in terror. I remember thinking, "If I were born Jewish, how could I possibly live with this?"
But my 7-year-old already knows a bit about it. My 10-year-old knows everything about it.
When you describe the project to people, is there a main takeaway you try to impart?
This is a happy story. You're never going to come away from talking about the Holocaust with a smile on your face, but in the end, this is a story about the miracle of life, and how we carry on.
If there is one word for Sugihara's act, it is compassion. I would like people to realize the power of compassion, and to keep that alive in our hearts and our souls and our minds.
The post A Japanese diplomat saved her husband's family from the Shoah — now she'll honor him at Carnegie Hall appeared first on The Forward.