Israel is a unique country. It is so small, and its people so interconnected, that every terror attack feels personal. Though we may fight at times, when push comes to shove, Israelis have a deep love and connection to one another. Every wound cuts us all deeply; every life taken shatters us.
It's not just that there's an emotional or spiritual connection between us all, though there is. We often truly are not more than two degrees separated from anyone else in our country. Each terror attack is horrifying on a human level, but also on a completely personal one.
Three different sets of siblings have been murdered in as many months: Yaakov and Asher Paley, aged 6 and 8, on Feb. 10; Yagel and Hallel Yaniv, 19 and 22, on Feb. 26; and now, just days ago, Rina and Maya Dee, aged 15 and 20.
This most recent attack took place on the first intermediate day of Passover, a time when everyone in Israel is typically out exploring the land. The Dees, in a few separate cars, were making their way up north for a family outing. The car carrying Rina and Maya, driven by their mother, was viciously attacked by Palestinian terrorists. Twenty-two shell casings were found in the car. The two girls were pronounced dead immediately; the mother, grievously wounded and evacuated by helicopter to a hospital, later died.
The whole country cried out together, as the joyous holiday was ripped into shreds by the murder of these two beautiful young women. They were immigrants from the United Kingdom and active members of the Gush Etzion community of Efrat, where they lived since they arrived.
Two of my own kids knew the girls. Many of my friends are close with their family. The funeral was heart-wrenching.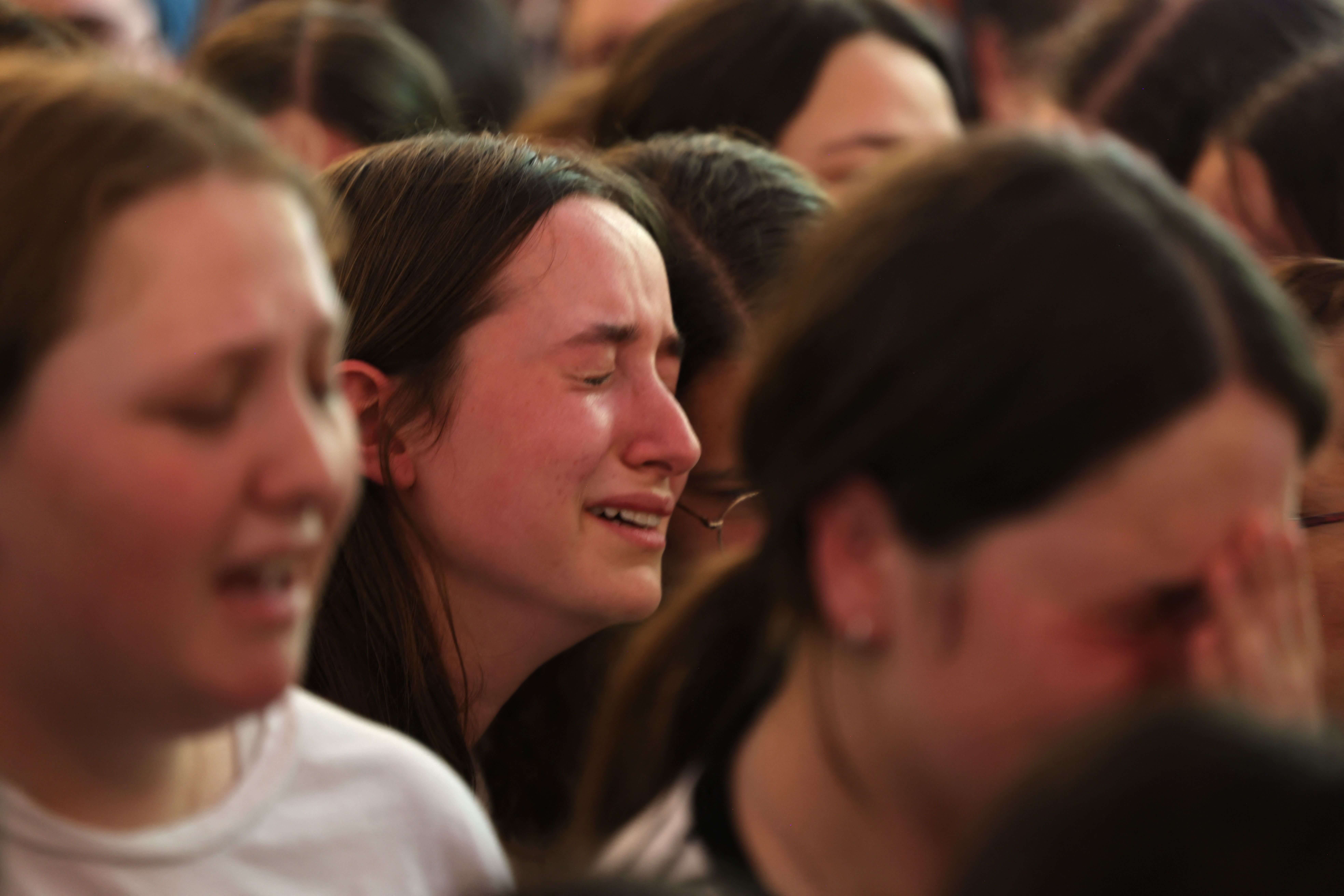 Mourners react during the funeral of British-Israeli sisters Rina and Maya Dee at the Kfar Etzion settlement cemetery in the occupied West Bank, on April 9, 2023. Photo by Menahem Kahana/AFP via Getty Images
So many teens and young adults were crying and singing soulful songs. The father of those two girls, Rabbi Leo Dee, beloved to so many, eulogized his daughters while his wife was in intensive care, fighting for her life. Everyone cried bitterly when he exclaimed, "How will I explain to Lucy what has happened to her two precious gifts, when she wakes up from her coma?"
We were all waiting, holding our collective breath, for his wife to show signs of recovery. It was all just unthinkable. But not as unthinkable as the awful news that, despite heroic efforts by medical teams at Hadassah Ein Kerem, his beloved Lucy succumbed to her injuries.
It was too much to bear.
And then Leo Dee, the husband and father who just lost his world — before he has begun to sit shiva for his beloved family, before he has even buried his wife — came forward with a message of love.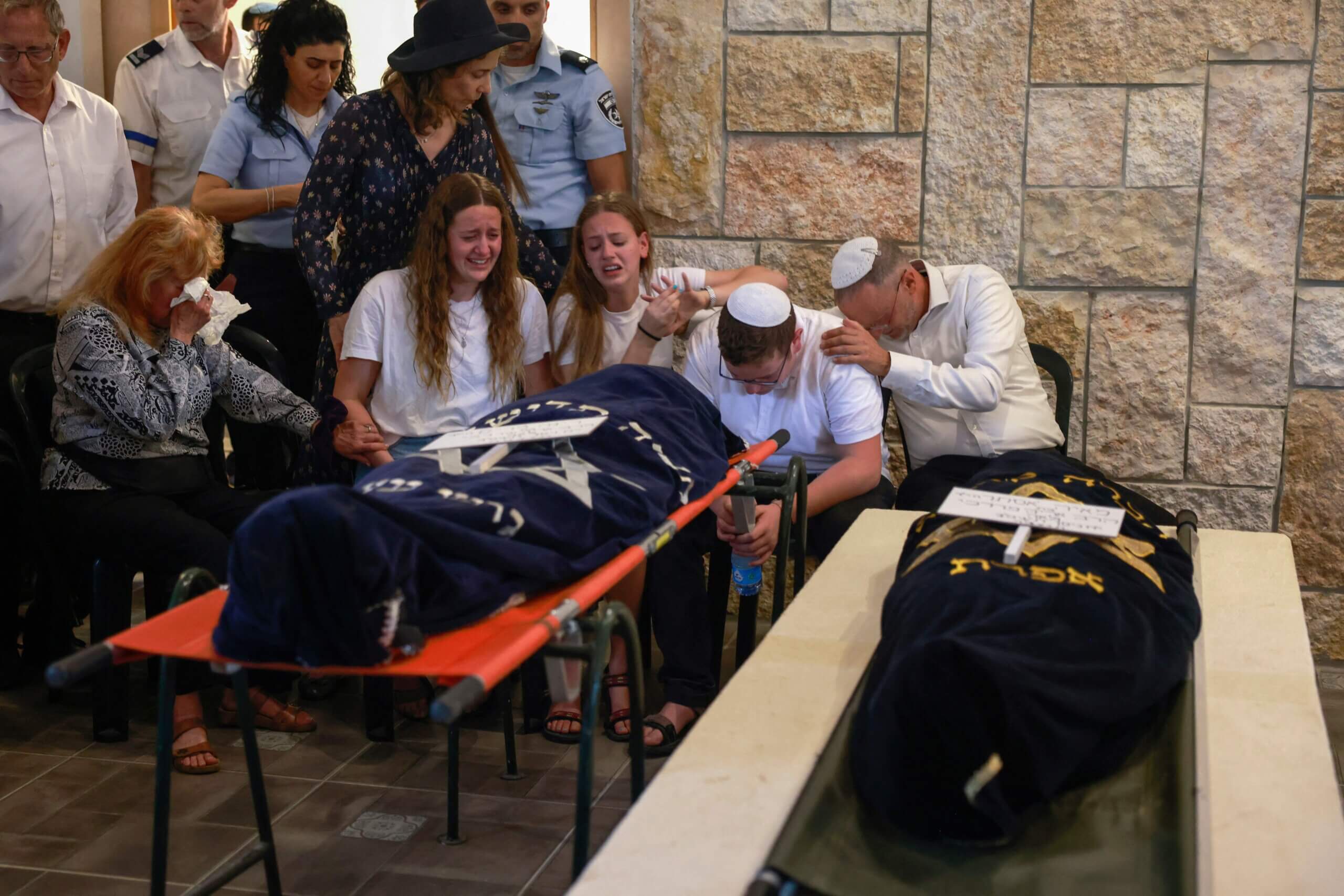 The sisters, brother and father of Rina and Maya Dee mourn during their funeral at the Kfar Etzion settlement cemetery in the occupied West Bank, on April 9, 2023. Photo by Menahem Kahana/AFP via Getty Images
During a press conference in Efrat, he implored his fellow Jews to, in the memory of the souls of his precious wife and daughters, post an Israeli flag with the hashtag #DeesDay.
"Let the Israeli flag today send out a message to humanity which is: We will never accept terror as legitimate. We will never blame the murder on the victims. There is no such thing as moral equivalence between terrorist and victim. The terrorist is always bad," he said.
With this simple message, he gave us something to hold onto. Instead of being paralyzed by our grief, we can unite around love and dignity.
To contact the author, email opinion@forward.com
The post The murder of two sisters shattered Israel. The words of their father gave us hope appeared first on The Forward.