Jane Rosenberg has been a courtroom artist for over 40 years.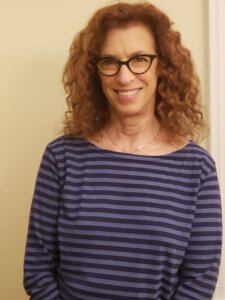 Jane Rosenberg has been a courtroom artist for over 40 years. Courtesy of Jane Rosenberg
She's sketched Tom Brady, Harvey Weinstein, Steve Bannon, and Ghislaine Maxwell — the last of whom sketched her back.
But last week, Rosenberg faced what was potentially the biggest assignment of her career: sketching former President Donald Trump's arraignment hearing.
Rosenberg was one of three courtroom artists approved for seats in the jury box during the arraignment. What she thought would be a routine, seven-minute proceeding ended up lasting nearly an hour. At one point in the hearing, Rosenberg saw Trump turn around to face his attorney and thought, "I've got to get this moment," she said.
Her sketch of Trump glaring at his attorneys, flanked by two security officers, quickly sparked interest beyond the courtroom. Rosenberg isn't on social media, but she knows the sketch has gone viral. Soon, it will be the first courtroom sketch to be featured on the cover of The New Yorker.
The Forward spoke to Rosenberg about what it was like to sketch inside the courtroom during the former president's arraignment and what the milestone means for her as an artist. This interview has been edited for length and clarity.
How did you get the assignment to sketch Trump's arraignment hearing?
Trump announced that he was going to be arrested on Tuesday. Right away, I emailed the court liaison to request a seat in the jury box because I knew I was going to need that. I've been in front of this judge before for Steve Bannon and for the Trump Organization trial. As we got closer, everybody was getting stressed out. I was told I might need a flak jacket and protective gear for protesting. It was so stressful.
What was the scene like at the courthouse on the day of the arraignment?
Police were all over. I was trying to go in the back way, so I could put my art supplies inside the press room and not have to lug them around. One of the officers guarded my husband while another one escorted me into the press room where I left my art supplies.
We all went in and hung out in the press room with a bunch of photographers and reporters. Then, we're told they're going to clear out the whole building, and artists had to take our art supplies. When we got out there, we were right next to all the protestors shouting and screaming. It was total chaos.
What was it like to be drawing Trump in the courtroom?
I've never seen so many court officers at once inside the courtroom. They were lined up in the aisles, back to back, each facing out toward the row. Just as I'm finishing setting up, Trump walks in and sits down. I had already started sketching the court security, and I decided I'm going to put him in this picture. Then Trump spoke into a microphone and said, "Not guilty." I thought, "I'm going to start another sketch."
I wasn't thrilled with the first one, and I thought, "I'd better get this." I whipped out a sheet of paper, and then I looked at him again. He was now turned completely around facing the prosecutor who was speaking, and that's the moment I said, "Aha, I have to get this." He held that position for quite some time, which is great for me, so I had a long time. And that's the one that went viral.
In your sketch, you draw Trump facing out with his eyes darting off to the side. How did you know you wanted to capture him at that moment?
It's hard for me to put into words. I don't want to pretend to read into what's going on in his brain in that moment. I saw an expression that sort of told me that this is the Trump I'm used to seeing. Something about him captured his character. When the photographers came in the beginning, he did not look happy then. But I think as the prosecutor started reading charges, and more and more arguments came out, I think he got even more unhappy looking. I could call it a scowl or a glare, but I'm not good at the words. I just make the pictures.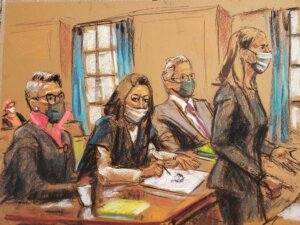 Jane Rosenberg sketched Ghislaine Maxwell – who sketched her back. Courtesy of Jane Rosenberg
What is your process like when you're sketching in the courtroom? Is there anything you pay particular attention to?
I start out with a pastel pencil, and I do a very rough sketch, gesturing at the position of the person and if they're sitting or standing. It's very scribbly. Then I start to tighten in with a fountain pen. And then I go in with color. I'm so happy with my pastels. They're sprawled out, all these beautiful colors, and that's when everything gets to be fun. I look at the planes of light on the face, highlight lines of expressions, and start to get some more form in there.
How long did it take you to draw the sketch that ended up on the cover?
I thought it was going to be a seven-minute arraignment, so in advance I thought, "I'm going to do a terrible sketch, it's going to go viral, and people are going to criticize me and make fun." I'm never going to do anything good in seven minutes, but it went on and on. I had time to do two sketches, which I've never done in an arraignment. I wasn't finished with either sketch when the proceeding ended. I stayed on in the jury box to finish up the background, but I had enough information in the faces to finish it up.
Have you gotten any particularly memorable responses to the sketch?
I'm on the cover of The New Yorker magazine. That's the most memorable thing in my career. It means a lot to me.
The post 'I've got to get this moment': This Jewish courtroom artist's sketch of Trump is The New Yorker's latest cover appeared first on The Forward.