Wagner Trained Hamas Militants for Attack on Israel, Ukrainian Partisans Claim
Elements of the Russian private military company (PMC) Wagner are alleged to have participated in the training of Hamas militants, the Ukrainian Center of National Resistance (CNR) reports.
"The Center of National Resistance thanks the Belarusian underground for the information about the enemy," its message reads.
According to the CNR, the primary fields of training given to Hamas fighters included assault tactics and the use of small unmanned aerial vehicles (UAVs) to drop explosive devices on to vehicles and other targets, a technique documented during Hamas's assault on Israel over the weekend.
The CNR underlined the view that among Hamas's allies, only Russia possess experience in the use of drones equipped with the means to deploy explosive devices onto enemy targets.
Gaza factions have released a video of a drone dropping a grenade on an Israeli Merkava tank near the Israel/Gaza border and starting a fire. pic.twitter.com/MqUIRxZkS4

— Kyle Glen (@KyleJGlen) October 7, 2023
Ukrainian partisans claim that during exercises in African countries, Wagner PMC members provided UAVs to Hamas militants.
Kyiv Post sought additional information from its sources within the Ukrainian partisan movement, but the source responded: "This is all the information we can release at this time."
Kyiv Post also reached out to Ukrainian intelligence agencies for comment, to which the Main Intelligence Directorate of the Ministry of Defense (HUR) replied: "This information is currently being clarified."
In late September, US Secretary of Defense Lloyd Austin stated that the continued presence of Wagner PMC fighters in Africa remains significant.
Ukraine's President underlined the gravity of the situation the Kremlin seeks to exacerbate, warning that in the past world wars started precisely "like this."
"Wagner still has a substantial presence on the continent," Austin told reporters during a visit to Djibouti.
Austin noted that the US had not observed any significant changes in the group's relations with the Kremlin or any signs of Moscow taking control of the group's operations across Africa.
He suggested that in the future, there may be internal competition for leadership within PMC ranks and emphasized that maintaining a presence in Africa without Russian support might prove challenging for the mercenaries in the medium to long term.
The Times of Israel has reported, citing unconfirmed local media sources, that the number of Israeli casualties in the Hamas attack and subsequent fighting has risen to 800, making it Israel's largest loss of life since the 1973 Arab-Israeli war.
Simultaneously, Israel's Ministry of Health disclosed that as of this afternoon, 2,506 individuals have been hospitalized with injuries, including 23 in life-threatening condition and 353 with severe injuries.
To suggest a correction or clarification, write to us here
You can also highlight the text and press Ctrl + Enter
Julia Struck
Julia Struck is a news writer and Kyiv Post correspondent who has previously worked as a parliamentary editor, journalist, and news editor. She has specialized in covering the work of Ukrainian parliament, government, and law enforcement agencies.
An Israeli newspaper has repeated its call for Benjamin Netanyahu to resign over the security and intelligence failures that preceded the breach of the Gaza border by Hamas.
A day after the editorial board of Haaretz blamed the Israeli prime minister for the deadliest raid into Israeli territory in 50 years, the left-leaning newspaper ran an op-ed whose headline said "Netanyahu: Resign Now!"
The piece by Nehemia Shtrasler, in a paper that has repeatedly criticized Netanyahu's time in office, said that the Hamas attack was "the worst failure in the country's history."
He criticized how Israeli army battalions were transferred from the Gaza border to guard settlers and when the attacks started, the Israelis living near Gaza "received no help but were abandoned to a terrible death."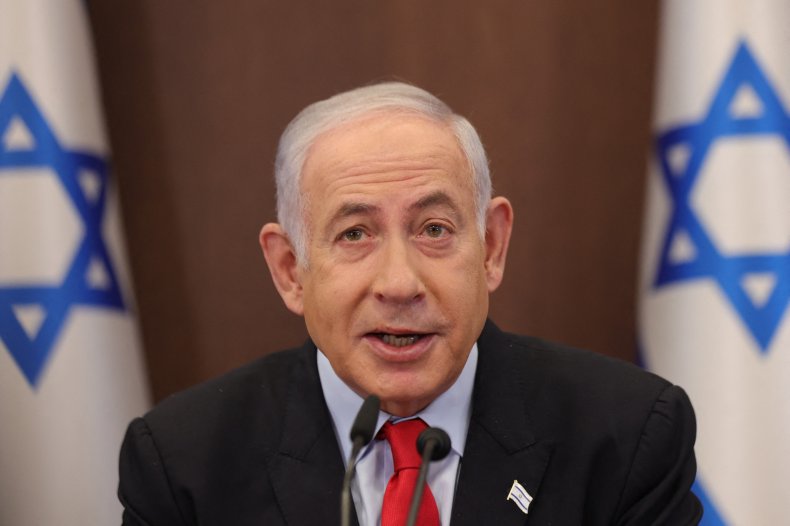 Israeli Prime Minister Benjamin Netanyahu is seen in Jerusalem on September 27, 2023. The newspaper Haaretz has called on him to resign. ABIR SULTAN/Getty Images
"The shocking videos the terrorists filmed are reminiscent of the Holocaust," wrote Shtrasler. "For such a massive failure, there is no forgiveness. There is one person to blame for this terrible disaster: Benjamin Netanyahu."
He said the prime minister had been focusing too much on his indictment in three corruption cases that drove the push for controversial judicial reform, removing the Supreme Court's power to cancel government decisions it did not accept.
Netanyahu had also neglected to visit Gaza-area communities or ask questions about the Israeli army's deployment.
"He said over and over again…Hamas is deterred and does not want war because it does not want to risk its economic achievement," referring to the money earned by Gaza residents permitted to work in Israel.
"The tragedy is that with this money, Hamas bought pick-up trucks, machine guns, paragliders and rockets, and used them to kills us," Shtrasler wrote, "For all these crimes, and in order to save the state of Israel, Netanyahu must resign, today."
Some social media users have also condemned Netanyahu. Journalist David Rothkopf shared another article in Haaretz, written by Alon Pinkas, whose headline said the Israeli prime minister "Must Go Now." "Unflinchingly, [Pinkas] describes an essential truth: Netanyahu must go now, not after the Gaza war," Rothkopf wrote on X (formerly Twitter).
Steven Strauss wrote on X that the Israeli prime minister has "credibly been accused of massive dereliction of duty" next to an Associated Press report that Israel had ignored Egypt's warnings about the severity of the situation in Gaza.
The historian Edward Luttwak posted how few troops were deployed in the perimeter around Gaza and so "were easily overwhelmed."
"After the war, Netanyahu must patriotically resign," he wrote.
Newsweek has contacted Netanyahu's office for comment.
On Monday he said Israel had begun a war which would be "for the security of our existence" and would be one "we will win."
MICHEL MARTIN, HOST:
You've been hearing this morning that Israeli surveillance of Gaza is extensive and intrusive, and yet Hamas fighters were able to invade Israeli territory, seize hostages, including children and entire families. And now more than 1,100 Israelis and Palestinians are dead. We've been hearing an array of perspectives this morning about this dangerous situation and possibly a way forward.
So now we're going to turn to a former top adviser to former Israeli Prime Minister Ehud Barak. Daniel Levy is now president of the U.S./Middle East Project. It's a group of former top officials who have been working for two decades to, as their mission statement says, advance a dignified Israeli-Palestinian peace. And Mr. Levy is with us now from London. Good morning.
DANIEL LEVY: Good morning, Michel.
MARTIN: So a lot has been said about this being an intelligence and military failure by Israel. But how much of this attack is a reflection of political failure, the failure to make a lasting peace?
LEVY: Well, thank you for asking that question because it's a question too infrequently asked. Yes, people are going to be looking at how come, with all this high-tech prowess, Israel did not know what had gone on. And I think the reports of meetings in Beirut and Iranian involvement would only increase that question, which is why I think those are probably inaccurate. But the bigger failure, I think, and the fear that I have amongst many other fears today is that they will look for easy answers.
And I already hear folks in Israel saying, well, this is the Netanyahu government. They were focused on this judicial overhaul, and they were focused too much on West Bank settler protection. But the malaise goes much deeper. And the real failure and the need for a paradigm shift is for people to look around and say, Israel has managed to have a period of relative quiet, but what has it done politically to address the root causes? And until there's a realization that Palestinians living in those circumstances are always going to ask themselves – how do we improve our lot? – and if all diplomatic, political, international legal paths are closed, then you have one route left open, which is armed resistance. And Israelis will not have normality and security until Palestinians do. That's the sad, painful truth that cannot be ignored in these days.
MARTIN: I'm so sorry we don't have more time. But I'd like to ask, how do you think the international community should be responding? What is the tone that they should be striking, and of course, because I'm in the United States, I'm going to ask you, particularly the U.S. administration, the Biden administration?
LEVY: I'm afraid that the Biden administration is continuing to encourage Israel to do its worst. American hubris, when you're surrounded by Canada and Mexico and you go overseas if you need to test and find out the limits of that hubris, is one thing. But encouraging Israel down a hubristic path of military solutions and we stand with you and it's going to be OK is the biggest disservice America can do.
MARTIN: And before we let you go, as we reported earlier, the defense ministry says it's shutting down food, fuel and electricity to Gaza. You can understand that as an immediate response but does that advance the cause of bringing this situation to some sort of conclusion?
LEVY: Well, of course it doesn't. It's a war crime. One's heart breaks for what one's seen in Israel, but one's hands tremble for what is going to happen to Gazans. And this will only make things worse. There is no military solution, and you need to bring in Hamas. We need to be talking. We should have been talking to them for decades. This is the outcome of failed politics. Don't double down on that failed politics.
MARTIN: That's Daniel Levy. He's president of the U.S./Middle East Project. And as we mentioned, he's a former adviser to former Israeli Prime Minister Ehud Barak. Mr. Levy, I do hope we'll talk again, and I do hope it'll be a better day when we do. Thank you for speaking with us.
LEVY: I hope so, Michel. Thank you.
(SOUNDBITE OF PAN AMERICAN'S "LIGHTS ON WATER") Transcript provided by NPR, Copyright NPR.
NPR transcripts are created on a rush deadline by an NPR contractor. This text may not be in its final form and may be updated or revised in the future. Accuracy and availability may vary. The authoritative record of NPR's programming is the audio record.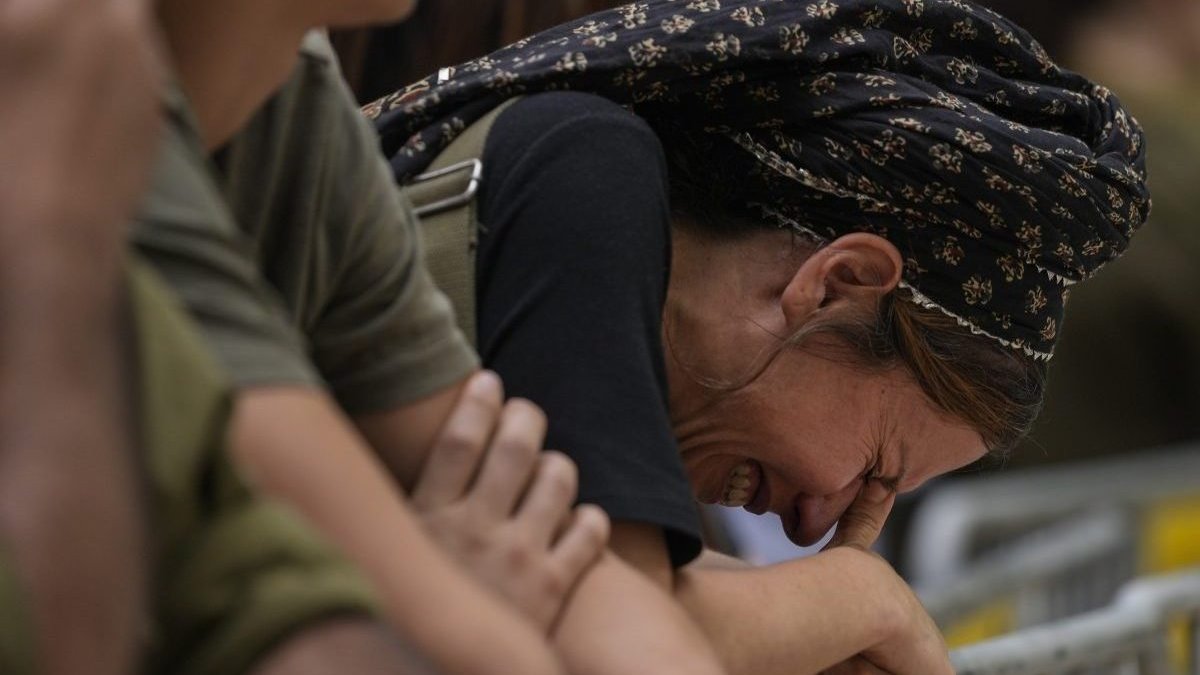 The night was a getaway. Thousands of young men and women gathered at a vast field in southern Israel near the Gaza border to dance without a care. Old and new friends jumped up and down, reveling in the swirl of the bass-heavy beats.
Maya Alper was standing toward the back of the bar with teams of environmentally conscious volunteers, picking up trash and passing out free vodka shots to party-goers who reused their cups. Just after 6.a.m., as a light-blue dawn broke and the headliner D.J. took the stage, air raid sirens cut through the ethereal trap music. Rockets streaked overhead.
Alper, 25, jumped into her car and raced to the main road. But at the intersection she encountered crowds of stricken festival attendees, shouting at drivers to turn around. Then, a noise. Firecrackers? Panicked men and women staggering down the road just in front of her fell to the ground in pools of blood. Gunshots.
The open-air Tribe of Nova music festival will go down in Israeli history as the worst civilian massacre in the country's history, with at least 260 dead and a still undetermined number taken hostage. Dozens of Hamas militants who had blown through Israel's heavily fortified separation fence and crossed into the country from Gaza opened fire on about 3,500 young Israelis who had come together for a joyous night of electronic music to celebrate the Jewish holiday of Sukkot. Some attendees were drunk or high on drugs, magnifying their confusion and terror.
The Associated Press reviewed more than dozen videos taken during the massacre and interviewed survivors to reconstruct how the deadly attack unfolded. The party was held in a dusty field outside of Kibbutz Re'im, about 3.3 miles (5.3 kilometers) from the wall that separates Gaza from southern Israel.
"We were hiding and running, hiding and running, in an open field — the worst place you could possibly be in that situation," said Arik Nani from Tel Aviv, who had gone to the party to celebrate his 26th birthday. "For a country where everyone in these circles knows everyone, this is a trauma like I could never imagine."
While rockets rained down, revelers said, militants converged on the festival site while others waited near bomb shelters, gunning down people who were seeking refuge. Many of the militants, who arrived in trucks and on motorcycles, were wearing body armor and brandishing AK-47 assault rifles and rocket-propelled grenades.
Videos compiled by Israeli first responders and posted to the social media site Telegram show armed men plunging into the panicked crowd, mowing down fleeing revelers with bursts of automatic fire. Many victims were shot in the back as they ran.
Israeli communities on either side of the festival grounds also came under attack, with Hamas gunmen abducting dozens of men, women and children — including elderly and disabled people — and killing scores of others in Saturday's unprecedented surprise attack.
The staggering toll from the festival was becoming clear Monday, as Israel's rescue service Zaka said paramedics had recovered at least 260 bodies. Festival organizers said they were helping Israeli security forces locate attendees who were still missing. The death toll could rise as teams continue to clear the area.
As the carnage unfolded before her, Alper pulled a few disoriented-looking revelers into her car from the street and accelerated in the opposite direction. One of them said he had lost his wife in the chaos and Alper had to stop him from breaking out of the car to find her. Another said she had just seen Hamas gunmen shoot and kill her best friend. Another rocked in his seat, murmuring over and over, "We are going to die." In the rear-view mirror, Alper watched the dance floor where she had spent the past ecstatic hours transform into a giant cloud of black smoke.
Festival-goers who managed to make it to the road and parking lot where their vehicles were parked found themselves trapped in a traffic jam, with militants stalking the cars and spraying those inside with gunfire. Drone footage of the scene taken after the attack and reviewed by the AP show chaotic lines of cars where drivers had attempted to flee. Some burned-out vehicles were flipped onto their sides, while others had bullet holes visible in shattered windows.
Nowhere was safe, Alper said. The roar of explosions, hysterical screams and automatic gunfire felt closer the further she drove. When a man just meters away shouted "God is great!", Alper and her new companions sprung out of the car and sprinted through open fields toward a mass of bushes.
Alper felt a bullet whiz past her left ear. Aware the gunmen would outrun her, she plunged into a tangle of shrubs. Peering through thorns, she said she saw one of her passengers, the girl who had lost her friend, shriek and collapse as a gunman stood over her limp body, grinning.
Israeli Prime Minister Benjamin Netanyahu declared war against Hamas Saturday after the Palestinian militant group launched a surprise attack on Israel, which the IDF says left at least 700 dead and thousands injured.
"I can't even explain the energy they (the militants) had. It was so clear they didn't see us as human beings," she said. "They looked at us with pure, pure hate."
Videos show the gunmen executed some of the wounded at point-blank range as they crouched on the ground. Some of the militants even rifled through the vehicles of their victims, grabbing purses and backpacks.
An unknown number of people from the festival were taken hostage. A video posted to social media by militants and verified by the AP shows an Israeli couple, Noa Argamani and her partner Avinatan Or, being dragged away by their captors.
Argamani, her face contorted in panic, shouts "No, no!" in Hebrew while being forced onto a motorbike, sandwiched between two gunmen. She reaches out for Or, whose hands are bound behind his back as a group of militants march him forward.
Their whereabouts are now unknown. But it is believed that Hamas is now holding more than 100 Israelis as hostages. On Monday, the group threatened to begin systematically killing captives if the Israeli military bombs Palestinian areas without warning.
For over six hours, Alper and thousands of other concert attendees hid without help from the Israeli army as Hamas militants sprayed automatic gunfire and threw grenades.
Her limbs were so contorted into a tangled mess in the bush that she couldn't wiggle her toes. At different points, she heard militants speak in Arabic just beside her. A yoga devotee who practices meditation, Alper said she focused on her breath — "breathing and praying in every way I knew possible."
"Every time I thought of anger, or fear or revenge, I breathed it out," she said. "I tried to think of what I was grateful for — the bush that hid me so well that even birds landed on it, the birds that were still singing, the sky that was so blue."
A tank instructor in the Israeli army, Alper knew she was safe when she heard a different kind of explosion — the sound of an Israeli army tank round. She shouted for help and soon soldiers were lifting her out of the bush. Around her lay the lifeless body of one of her friends. The girl from her car she had seen collapse was nowhere to be found; she believes that Hamas militants took her into Gaza.
Alper said the Israeli army, on its way to fight Hamas militants in the hard-hit kibbutz of Be'eri near the Gaza border, was at a loss as to know what to do with her.
At that moment, a pick-up truck full of Palestinian citizens of Israel pulled up. The men from the Bedouin city of Rahat were scouring the area to help rescue Israeli survivors. Helping Alper into their car, they drove her to the police station, where she collapsed, crying, into her father's arms.
"This is not just war. This is hell," Alper said. "But in that hell I still feel that somehow, we can choose to act out of love, and not just fear."
Photos: Israel-Hamas War
Selected Articles – The News And Times