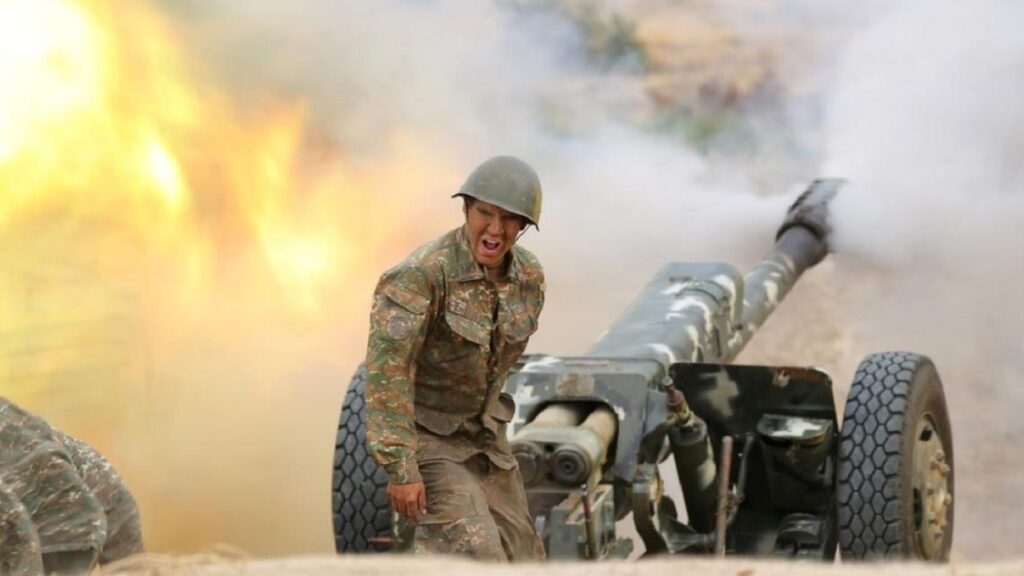 Azerbaijani President Ilham Aliyev appears to relish embarrassing the State Department.
Just weeks after the now-voided ceasefire, Aliyev castigated on live television Andrew Schofer, at the time the chief US representative on the Karabakh issue, during a Baku meeting.
Noting that Aliyev did not invite the American and French representatives, he said he would nevertheless listen on the off chance they had something worthwhile to say.
Aliyev, though, had no desire to listen to diplomats. "Azerbaijan resolved the conflict, which lasted for almost 30 years, resolved by force and political means," he said. "And I can only agree with what [Russian] president [Vladimir] Putin said, the president of the one of the co-chair countries, that Nagorno-Karabakh conflict is already in the history… Azerbaijan resolved it itself. And by defeating Armenia on the battlefield, we forced aggressor to admit its defeat, to sign declaration which we consider as an act of capitulation of Armenia."
In the three years since, he has only redoubled his contempt for American diplomacy. Testifying last week before the Senate Foreign Relations Committee, acting Assistant Secretary of State Yuri Kim declared, "We will not tolerate any attack on the people of Nagorno-Karabakh." Aliyev called her bluff and Kim, who hopes to be the next US ambassador to Turkey, showed her declaration both empty and insincere.
It is not a good look for American diplomacy. Nor is Kim alone. Secretary of State Antony Blinken repeated there could be "no military solution" or that "the use of force to resolve disputes is unacceptable" in recent days. To sit idle as Aliyev imposes through military force a solution that leads to the mass flight or expulsion of one of the region's oldest Christian communities not only reinforces the notion that Blinken is the weakest secretary of State since Frank Kellogg a century ago. The danger is that not only Aliyev but also other dictators will see inaction or empty rhetoric as a greenlight. The Armenia fight might not be over, after all, especially as Aliyev occupies portions of Armenia and claims even capital Yerevan as an Azeri city.
So how should the United States react?
First, Azerbaijan's military conquest should not push aside the ongoing investigations of severe human rights abuses and torture and executions of prisoners of war stemming from the 2020 war. The best resource on these cases rests in a repository at the Institute for the Study of Human Rights at Columbia University assembled by now-Georgetown University Scholar David Phillips and his able team.  
Second, will Congress assess how recent waivers of Section 907 of the Freedom Support Act contributed and enabled the Azerbaijani military action? Will any diplomats from the Trump or Biden administrations be held accountable by Congress for flagrant violations of U.S. law?
Third, what will the United States do to ensure preservation of cultural heritage? While the Hudson Institute's Luke Coffey says, "There is no religious dimension to this conflict," such a statement is patently false. Put aside the rhetoric of Al Qaeda-affiliated mercenaries from 2020. There is a long history of the Aliyev regime destroying Christian sites or seeking to erase Armenian heritage. Consider, for example, the destruction of the Julfa Cemetery. Every scholar or analyst apologetic to Azerbaijan's position should explain what motivates such destruction and if they can voice any plausible excuse. The same holds true for the sandblasting of Armenian inscriptions in other churches and monasteries.  The simple facts are these: Few believe the Azerbaijani narrative because Aliyev has not allowed foreign media or foreign observers in for years. Pinocchio's nose is too big to ignore the ongoing eradication of a community. There is a reason why so many living under Azerbaijani guns fear for their lives.
Fourth, the State Department should immediately dispatch multiple diplomats from the US Embassy in Baku to Stepanakert to monitor the situation. Atrocities occur in the dark. If Azerbaijan has nothing to hide, then it will not impede diplomats visiting beleaguered, Christian populations on land Azerbaijan controls.
Fifth and finally, Azerbaijani officials say that they will allow Armenians from Nagorno-Karabakh to remain as equal citizens under Azerbaijani law. Put aside the fact that they already accuse many generations-old Armenians of the region of having no proof of residency. Congress should demand the State Department release a report assessing the Azerbaijani constitution and the independence of the Azerbaijani judiciary. Does the State Department believe that the Aliyev family is subordinate to Azerbaijani law or above it? Does Blinken believe that Azerbaijani will, for example, bring to justice those seen beheading or mutilating prisoners on video?
Freedom and faith suffer today, but Azerbaijani triumphalism need not be the final chapter. The downside of imposing a military solution, rather than the "consensual" solution for which Secretary of State James Baker called when he crafted the American position to the region more than three decades ago, is that the pendulum of unilateralism swings both ways. Aliyev will not live forever, and even the most ambitious family dynasties unravel. In the interim, it is essential that the State Department cease its business-as-usual with Azerbaijan and work overtime to help one of the world's oldest Christian communities that, unfortunately, Washington's own distraction and indifference now imperils.
About the Author
Now a 19FortyFive Contributing Editor, Dr. Michael Rubin is a Senior Fellow at the American Enterprise Institute (AEI). Dr. Rubin is the author, coauthor, and coeditor of several books exploring diplomacy, Iranian history, Arab culture, Kurdish studies, and Shi'ite politics, including "Seven Pillars: What Really Causes Instability in the Middle East?" (AEI Press, 2019); "Kurdistan Rising" (AEI Press, 2016); "Dancing with the Devil: The Perils of Engaging Rogue Regimes" (Encounter Books, 2014); and "Eternal Iran: Continuity and Chaos" (Palgrave, 2005).